FEATURE : 'Soleckshaw' revolutionizes rickshaw
It's been touted as a solution to urban India's traffic woes, chronic pollution and fossil fuel dependence, as well as an escape from backbreaking human toil.
A state-of-the-art, solar powered version of the humble cycle-rickshaw promises to deliver on all this and more.
The "soleckshaw," unveiled this month in New Delhi, is a motorized cycle rickshaw that can be pedaled normally or run on a 36-volt solar battery.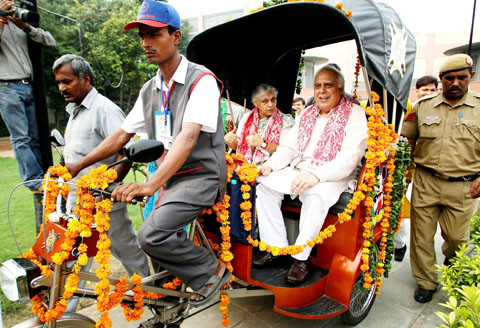 New Delhi Chief Minister Sheila Dikshit, center left, and Minister of Science and Technology Kapil Sibal, center right, ride in the new solar-electric rickshaw, "Soleckshaw," after its launch in New Delhi, India, on Oct. 2.
PHOTO: AFP
Developed by the state-run Centre for Scientific and Industrial Research (CSIR), prototypes are receiving a baptism of fire by being road-tested in Old Delhi's Chandni Chowk area.
One of the city's oldest and busiest markets, dating back to the Moghul era, Chandni Chowk comprises a byzantine maze of narrow, winding streets, choked with buses, cars, scooters, cyclists and brave pedestrians.
"The most important achievement will be improving the lot of rickshaw drivers," said Pradip Kumar Sarmah, head of the non-profit Centre for Rural Development.
"It will dignify the job and reduce the labor of pedaling. From rickshaw pullers, they will become rickshaw drivers," Sarmah said.
India has an estimated 8 million cycle-rickshaws.
The makeover includes FM radios and powerpoints for charging mobile phones during rides.
Gone are the flimsy metal and wooden frames that give the regular Delhi rickshaws a tacky, sometimes dubious look.
The "soleckshaw," which has a top speed of 15kph, has a sturdier frame and seats for up to three people.
The fully charged solar battery will power the rickshaw for 50km to 70km. Used batteries can be deposited at a centralized solar-powered charging station and replaced for a nominal fee.
If the tests go well, the "soleckshaw" will be a key transport link between sporting venues at the 2010 Commonwealth Games in New Delhi.
"Rickshaws were always environment friendly. Now this gives a totally new image that would be more acceptable to the middle-classes," said Anumita Roychoudhary of the Delhi-based Centre for Science and Environment.
"Rickshaws have to be seen as a part of the solution for modern traffic woes and pollution. They have never been the problem. The problem is the proliferation of automobiles using fossil fuels," she said.
Initial public reaction to the "soleckshaw" has been generally favorable, and the rickshaw pullers have few doubts about its benefits.
"Pedaling the rickshaw was very difficult for me," said Bappa Chatterjee, 25, who migrated to the capital from West Bengal and is one of the 500,000 pullers in Delhi.
"I used to suffer chest pains and shortage of breath going up inclines. This is so much easier," he said.
"Earlier, when people hailed us it was like, 'Hey you rickshaw puller!' Police used to harass us, slapping fines even abusing us for what they called wrong parking. Now people look at me with respect," Chatterjee said.
Another migrant from eastern Bihar state, Mohammed Matin Ansari, said the new model offered parity with car, bus and scooter drivers.
"Now we are as good as them," he said.
Indian authorities have big dreams for the "soleckshaw."
Indian Science and Technology Minister Kapil Sibal, who hailed the invention for its "zero carbon foot print," said it should be used beyond the confines of Delhi.
"Soleckshaws would be ideal for small families visiting the Taj Mahal," he said.
At present, battery-operated buses ferry people to the iconic monument in Agra — but their limited numbers cannot cope with the heavy tourist rush.
CSIR director Sinha said he hoped an advanced version of the "soleckshaw" with a car-like body would become a viable alternative to the "small car" favored by Indian middle class families.
Comments will be moderated. Keep comments relevant to the article. Remarks containing abusive and obscene language, personal attacks of any kind or promotion will be removed and the user banned. Final decision will be at the discretion of the Taipei Times.