Egyptian minister visits Baghdad
DIPLOMATIC UPGRADE Foreign Minister Ahmed Aboul Gheit told his hosts that Cairo was ready to open a new embassy and help rebuild Iraq's oil industry
Egypt sent its foreign minister to Iraq on Sunday for the first time in nearly two decades in a sign of growing Arab acceptance of the country's Shiite-led government.
In the north, 11 people including women and children died during a US raid on a house in Mosul, where an extremist detonated a suicide vest — a stark reminder that Iraq still faces security challenges despite the drop in violence.
Egyptian Foreign Minister Ahmed Aboul Gheit said his visit was aimed at helping Iraq face its "many challenges," including extremism, violence and sectarian hatred.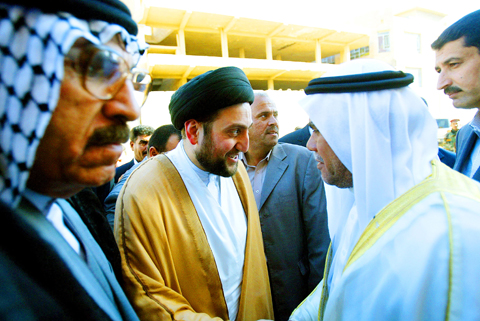 Rising Iraqi Shiite leader Ammar al-Hakim, center, walks through a crowd as he visits Samarra in Salaheddin Province, Iraq, on Saturday.
PHOTO: AFP
"And we hope that peace and security will prevail in Iraq," he said.
He told reporters Egypt was ready to open a new embassy and help with reconstruction of Iraq's oil industry.
It was the first visit to Iraq by an Egyptian foreign minister since former Iraqi president Saddam Hussein invaded Kuwait in 1990.
Aboul Gheit's visit was noteworthy because of Egypt's traditional role as a leading Arab state and host of the Arab League.
In Mosul, US troops came under heavy gunfire after entering a house early on Sunday looking for a suspected insurgent, the US military said in a statement. As US soldiers returned fire, a man inside the house detonated a suicide vest, the statement said.
Five "terrorists" as well as three women and three children were killed, the statement said. Two other children, including one who was injured, were found near the building and moved to safety, the military said. A weapons cache was later found inside.
Iraqi police officials in Mosul said all 11 of the dead were family members, including a seven-year-old boy. Hospital officials said most of those who died in the raid appeared to have been killed by the exploding vest and not by gunfire.
Meanwhile, rising Iraqi Shiite leader Ammar al-Hakim has extended an olive branch to rival Sunni leaders and tribes during a whistlestop tour of Sunni enclaves ahead of key provincial elections.
Hakim, 37, the eldest son and heir of Abdel Aziz al-Hakim, head of the Supreme Iraqi Islamic Council (SIIC) party, has been widely tipped to take over the reins of the powerful Shiite party which has 30 seats in parliament from his cancer-stricken father.
Under heavy guard on Saturday, Hakim and his convoy of two dozen Land Cruisers visited the Sunni strongholds of Samarra and Tikrit, and Balad, a Shiite-majority town that saw heavy fighting against Sunni neighbor Dhuluiya.
In Samarra, which gained international notoriety after its Shiite Al-Askari shrine was bombed on Feb. 22, 2006, by al-Qaeda fighters, he stressed the need for unity among Iraq's divided religious communities.
"We came here to visit the imams and also to be in contact with our people and tribes, in this province and also to be in touch with the people of Samarra," Hakim told reporters outside the heavily damaged shrine.
Comments will be moderated. Keep comments relevant to the article. Remarks containing abusive and obscene language, personal attacks of any kind or promotion will be removed and the user banned. Final decision will be at the discretion of the Taipei Times.