Zimbabweans scramble to withdraw cash
Banking authorities raised the daily withdrawal limit in Zimbabwe, prompting tens of thousands to line up in desperate hopes of getting enough cash for groceries before spiraling inflation eats away more of the currency's value.
New rules went into effect the day Zimbabwean President Robert Mugabe returned from the UN, allowing withdrawals of up to 20,000 Zimbabwe dollars (US$35). The old 1,000 Zimbabwean-dollar limit was barely enough to buy a newspaper.
The limit and the fact that Zimbabwe has the world's highest inflation rate, officially 11 million percent, unofficially much higher, has meant long lines at banks most days.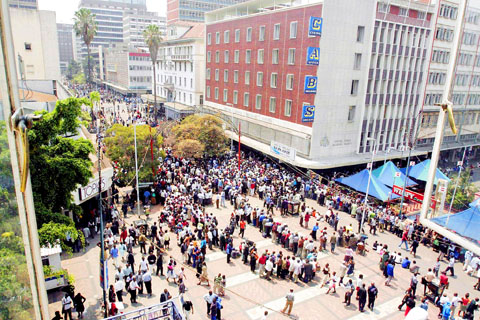 Thousands of Zimbabweans line up outside banks in the hope of drawing cash after the country's Reserve Bank raised the withdrawal limit of Z$1,000 (US$1) — not enough to buy a loaf of bread — to Z$20,000, in Harare, Zimbabwe, on Monday. Chronic shortages of cash, famine, empty supermarket shelves, constant blackouts and water cuts have accompanied hyperinflation.
PHOTO: EPA
But Monday was extraordinary. Mothers with babies strapped to their backs arrived at bank doors at dawn. Police vainly tried to stop the crowds from blocking traffic, but there appeared to be more police and uniformed soldiers in line to get cash than on duty.
Lovemore Matombo, head of the Zimbabwe Congress of Trade Unions, said if politicians did not take action soon to ease the suffering of workers "we will go onto the streets."
He called for the limit on withdrawals to be removed altogether, but central bank officials say that could spark a run on banks that would ultimately worsen the cash shortages.
On Saturday, central bank governor Gideon Gono vowed to keep printing money, a practice critics say has fueled inflation.
As the lines disrupted traffic in Harare, Mugabe returned from a 10-day trip to the UN, promising a new coalition government will be named soon.
Getting the long-promised government up and running is seen as a first step to addressing the country's growing economic and humanitarian crisis.
But with his absence, a power-sharing deal he signed with his longtime rivals in the Movement for Democratic Change has stalled.
The two sides have been unable to agree on which party should control key Cabinet posts, among them the Finance Ministry.
Looking fit even at 84, Mugabe was greeted by about 1,500 singing, dancing well-wishers at the airport.
"We never said there was a deadlock. But we will be setting up a government this week, toward the end of the week," he promised, warning US Ambassador James McGee, an outspoken critic, to stop "interfering" in domestic matters.
Mugabe's rival, Morgan Tsvangirai, who is to be prime minister in the unity government, said during the weekend that a new power-sharing government must be formed within days to avert a humanitarian crisis.
Under the power-sharing deal, Mugabe's party gets 15 Cabinet seats and 16 go to Tsvangirai's party and a smaller breakaway opposition group led by Arthur Mutamabara.
Mugabe remains president and head of the Cabinet. As prime minister, Tsvangirai heads a new council of ministers responsible for government policies.
Mugabe, in power since independence from Britain in 1980, blames Western sanctions for Zimbabwe's economic collapse. But critics point to his 2000 order that commercial farms be seized from whites.
The often-violent seizures disrupted the agriculture-based economy and much of the land went to Mugabe loyalists instead of the poor blacks he said he wanted to help.
Comments will be moderated. Keep comments relevant to the article. Remarks containing abusive and obscene language, personal attacks of any kind or promotion will be removed and the user banned. Final decision will be at the discretion of the Taipei Times.