McCain, Obama toe party line on oil policy
ECONOMIC WOES Confronting consumer anger over sharply escalating fuel costs, the presumptive US presidential candidates have retreated to their party positions
Republican Senator John McCain challenged automakers to help the US break free from its dependence on foreign oil, as he and Democratic rival Senator Barack Obama retreated to tested party positions in tackling an energy price spike that has hammered Americans already struggling amid a weak economy.
While both presidential candidates back development of alternative energy sources to break the US dependence on foreign oil, Obama promotes Washington activism to set things right; McCain opts for enticements.
Comments by top McCain adviser Charlie Black, meanwhile, put the Republican candidate on the defensive on Monday.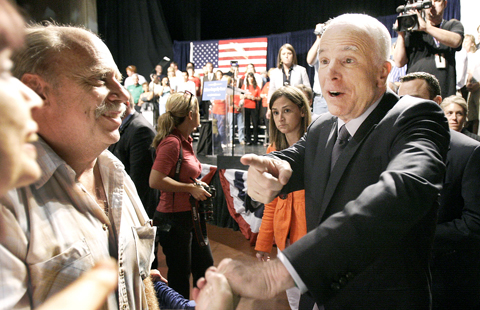 Republican Senator John McCain shakes hands with supporters after speaking at a town hall meeting at Fresno State in Fresno, California, on Monday.
PHOTO: AP
Black, who has been in the spotlight for his past work as a lobbyist, is quoted in the July 7 edition of **Fortune magazine as saying a terrorist attack on US soil "certainly would be a big advantage to him."
Black also was quoted as saying the "unfortunate event" of the assassination of Pakistani leader Benazir Bhutto "helped us."
McCain was startled by the comments when asked about them during a news conference after he delivered a speech on energy policy at Fresno State University in California on Monday.
"I cannot imagine why he would say it. It's not true," the senator said. "I've worked tirelessly since 9/11 to prevent another attack on the United States of America. My record is very clear."
The Obama campaign issued a statement almost immediately, saying the remarks were "a complete disgrace."
"Barack Obama welcomes a debate about terrorism with John McCain, who has fully supported the Bush policies that have taken our eye off of al-Qaeda, failed to bring Osama bin Laden to justice, and made us less safe," the statement said.
On the energy front, neither candidate's approach was likely to ease the pain for US consumers in the short term and McCain, bidding to continue Republican control in the White House, could have the tougher philosophical sales job given his perceived links to US President George W. Bush.
Over the weekend, Obama said he would impose a tax penalty on Big Oil for sales at or above US$80 a barrel. It closed on the New York market Monday at almost US$138, nearly double the price a year ago.
Obama said he would use the tax proceeds to help Americans make their homes more energy efficient and assist consumers with utility bills. McCain argues former US president Jimmy Carter tried that 30 years ago and only succeeded in deepening an oil shortage in the midst of the Arab oil embargo.
McCain has said the answer lies with exploiting US reserves and joined Bush last week in calling for an end to the quarter-century ban on offshore drilling.
The two men do agree on one fix that could help. They support closing the so-called "Enron loophole," a 2000 congressional exemption on energy trading regulations.
A poll released Monday showed Obama ahead of McCain by a small margin, with 50 percent to McCain's 44 percent. It also found that nine in 10 people said energy, including gas prices, would be very or extremely important in deciding their presidential vote in November, tying it with the economy as the top issue. People said Obama would do a better job than McCain on energy issues by 19 percentage points.
The USA Today-Gallup Poll was conducted from June 15 to June 19 and had a margin of error of plus or minus 3 percentage points.
Also see: 標題
Comments will be moderated. Keep comments relevant to the article. Remarks containing abusive and obscene language, personal attacks of any kind or promotion will be removed and the user banned. Final decision will be at the discretion of the Taipei Times.