Troops launch Amara operation
SECURITY OR THREAT Amara residents are divided as to whether a new wave of US and Iraqi forces will bring peace or a greater number of kidnappings and killings
Iraqi and US forces brought fear and hope to divided residents of Amara yesterday in a sweep that some saw bringing an end to killings in the city, while others believed it would be a fuse to spark even more violence.
Teams of police and soldiers swept through the urban sprawl in the southern Shiite stronghold, setting up checkpoints, patrolling its dusty, ramshackle streets, collecting weapons and urging citizens to move.
The operation launched early yesterday is focused on arresting insurgents, drug dealers and private militias that have thrived here in the wake of the US-led invasion that toppled president Saddam Hussein in early 2003.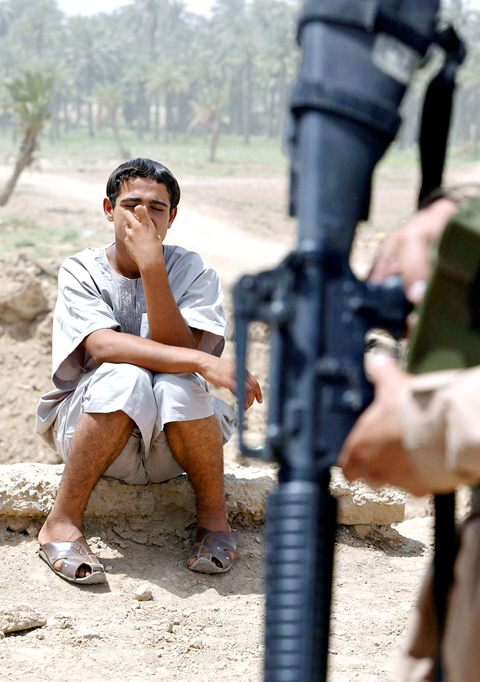 An Iraqi youth sits on a rock as a nearby Iraqi soldier holds an assault rifle in the southern city of Amara in Maysan Province, 365km south of Baghdad, yesterday. Iraqi forces backed by US troops launched a new operation against Shiite fighters in the south of the country early yesterday after the expiry of a four-day deadline to surrender arms.
PHOTO: AFP
Despite the military buildup the mood in Amara was calm. Restaurants and shops opened for business and some patrons voiced optimism that the militias that had been a law to themselves would be pushed out.
"Before the Iraqi army came, the situation was very bad, with armed militias controlling the whole area of Amara and the province," a 30-year-old trader from the city, Abu Waleed, said at a local eatery with friends.
"They did what they wanted and nobody could tell them what to do. We'd lost our rights," Waleed said.
For Waleed and his friends, the arrival of the Iraqi army means that security will improve in this violence-stricken city that has struggled against sectarian killings.
Not all, however, are convinced.
"The Iraqi army has just come in and scared the people, everyone is scared of the operation and what will come afterwards," said one impassioned 24-year-old, who gave his name as Mortatha.
"Now with the army here, if there is any problem, then the kidnappings and the murders will begin again," he said, while a large crowd that formed around him agreed vehemently.
As a Shiite bastion, Amara, with its rich but largely undeveloped oil fields, has seen radical Shiite cleric Moqtada al-Sadr and his powerful militia, the Mehdi Army, easily set up camp.
Posters of the black-bearded and turban-wearing cleric paper the city, and people like Mortatha feel Sadr has done good for them in bringing order from chaos.
Amara largely avoided the deadly street battles that swept through much of Iraq in the wake of the US occupation, but it suffered a wave of sectarian kidnappings and killings last year.
Abu Jihad, a trader, said the bleak outlook for the city's 350,000 residents was largely to blame for the rise of militias in Amara.
"This caused many people to join militias because the militias would give them money," Jihad said.
Many of Sadr's supporters believe that the Iraqi army is now targeting the cleric and especially his 60,000-strong militia, a charge that Baghdad denies.
Iraq's government and Prime Minister Nuri al-Maliki insist that the operation is only targeting armed gangs.
The government had also offered money and amnesty to those fighters who turned in their weapons before Wednesday, a day before the assault commenced.
"We are not going after Sadr, we are fighting people who are against the government," Ministry of Defense spokesman Mohammed al-Askari said at a military base in Amara.
"We have a long list of many parties in Iraq who have killed and kidnapped. We have their names and we're going to catch them," Askari said.
Comments will be moderated. Keep comments relevant to the article. Remarks containing abusive and obscene language, personal attacks of any kind or promotion will be removed and the user banned. Final decision will be at the discretion of the Taipei Times.