Venezuela shows off missile power
WAR GAMES The televised show allowed Hugo Chavez to display for the first time some of the hardware purchased from Russia and China using profits from record oil revenues
Venezuela fired live missiles from fighter jets and ships Friday during exercises intended to demonstrate the firepower of President Hugo Chavez's military.
Smoke rose from ships off the La Orchila island military base as Otomat MK2 missiles arced into the sky and Russian-made Sukhoi fighter jets flew in formation.
The televised war games allowed the military to showcase some of the hardware bought under Chavez, who says Venezuela's main threat is the US. A US Navy plane last month flew over the same Caribbean island base, drawing a diplomatic protest from Venezuela.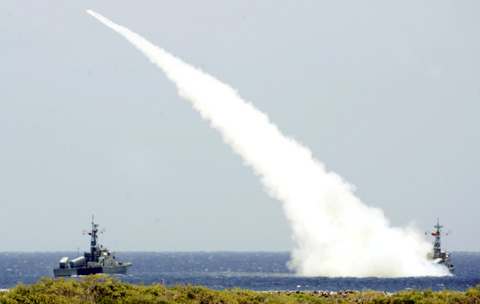 A Venezuelan navy ship launches a missile during a test at Orchila Island in Venezuela on Friday.
PHOTO: AP
US officials said the plane accidentally strayed into Venezuelan airspace during a counter-drug mission, but Chavez accused Washington of espionage.
Defense Minister Gustavo Rangel Briceno commanded the troops during Friday's exercises, ordering them to fire at mock "enemy units." It was the first time in 13 years that such drills were held with live missile fire at sea, he said.
The ships and planes hit their target -- an old tugboat -- with missiles and a 500kg bomb, sinking the vessel 36km offshore, Rangel said.
He declared the exercises a success, saying "we've been able to show our power of dissuasion and defense."
The US denies having designs on Venezuela, which is its fifth largest oil supplier. But Chavez insists his government is under a real threat, citing the US Navy's decision earlier this year to re-establish the Fourth Fleet to direct naval forces in the Caribbean, Central and South America.
Opposition politician Enrique Ochoa Antich said Chavez's perpetual verbal conflicts with the US aim to rally nationalist sentiment around the threat posed by the "empire," as Chavez calls the US.
But Ochoa said the approach has been used by Chavez for so long that it "isn't very effective anymore at this point."
Chavez frequently accuses the US of plotting his overthrow to snatch the OPEC nation's oil reserves, and in recent weeks has said the US attitude toward Venezuela echoes US "aggression" in Iran and Iraq.
The test was the first display of firepower purchased from Russia and China using profits from its record oil revenues.
Venezuela has the fourth-largest military budget in Latin America, and analysts say its military spending is relatively low in relation to its GDP.
Tensions remain high between the US, Venezuela and its neighbor, US-ally Colombia, which accuses Chavez of helping Marxist insurgents fighting the government.
Comments will be moderated. Keep comments relevant to the article. Remarks containing abusive and obscene language, personal attacks of any kind or promotion will be removed and the user banned. Final decision will be at the discretion of the Taipei Times.