Former Shanghai mayor given 18-year prison term
RESHUFFLE The conviction of Chen Liangyu, the last of a group loyal to former Chinese leader Jiang Zemin, completes President Hu Jintao's efforts to eliminate the 'Shanghai Gang'
Former Shanghai Chinese Communist Party (CCP) boss Chen Liangyu (陳良宇) was sentenced to 18 years in prison yesterday, state press said, the most senior Chinese official to be convicted of corruption in over a decade.
Chen, 61, was sentenced by a court in Tianjin after being convicted of taking bribes and abusing power, Xinhua news agency said.
But his conviction was also widely seen as part of Chinese President Hu Jintao's (胡錦濤) effort to consolidate power by sidelining allies of his predecessor, while also sharpening his own credentials as an anti-corruption crusader.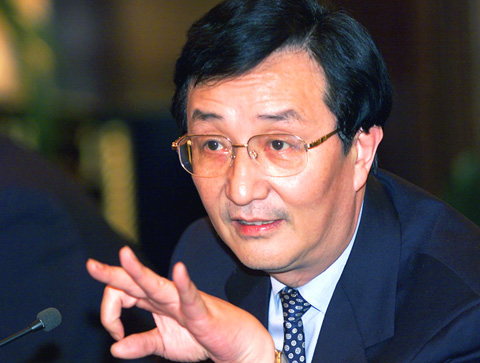 The former mayor of Shanghai, Chen Liangyu, answers a question at a press conference in Shanghai on Feb. 27, 2002.
PHOTO: AFP
Chen was tried last month in a scandal that shook national politics when it emerged in mid-2006 that hundreds of millions of dollars from Shanghai's pension fund had been illegally siphoned off for real estate investments.
Last month, the State Audit Office revealed figures that put the amount of stolen cash at 33.9 billion yuan (US$4.8 billion), 10 times more than the original estimate of US$480 million.
China has already handed tough convictions to up to 20 officials and businessmen involved in the theft of the pension funds, including one suspended death sentence and several life imprisonments.
Chen had been charged with abuse of power in connection with the pension fund scandal, as well as accepting 2.39 million yuan, some of which was given to his wife and son, earlier press reports said.
State press said that charges of dereliction of duty were dropped against him in yesterday's decision, but the former leader was also fined 300,000 yuan.
During his one-day trial, Chen admitted he was "partially responsible" for the pilfering but did not plead guilty, according to previous reports.
The Tianjin court refused to comment on Chen's case when contacted yesterday.
Chen's case is the biggest corruption scandal to hit the Chinese government since former Beijing mayor Chen Xitong (陳希同) was removed from his post in 1995 and sentenced to 16 years in jail.
The former Shanghai leader was placed under investigation in 2006 when he was a member of the CCP Politburo, a grouping of about 20 of the most powerful politicians in China.
His case triggered a reshuffle among Shanghai's political leadership, reflecting apparent efforts by Hu to rid the city of the powerful "Shanghai Gang" — politicians such as Chen who were loyal to former president Jiang Zemin (江澤民).
"Chen's case has more political significance than legal or social significance," said Wong Yiu-Chung (王耀宗), a China scholar at Hong Kong's Lingnan University.
"The Shanghai Gang has basically been vanquished with the case ... Hu is putting in place the fear of God as he takes over [political] power," Wong said.
According to Xinhua, Chen has been held in Beijing's Qincheng prison, which has long housed China's political prisoners.
The last wife of former revolutionary leader Mao Zedong, Jiang Qing (江青), a member of the infamous "Gang of Four," was held there when she committed suicide in 1991.
Earlier this week, a court in northeast China sentenced Zhang Rongkun (張榮坤), once one of the nation's richest businessmen, to 19 years in jail in connection with the pension fund case.
Zhang, who was said to be at the center of the scandal, was convicted on five counts of bribery involving up to 9.5 million yuan, bond fraud and market manipulation.
Hu, like leaders before him, has vowed to eradicate corruption within communist ranks, although graft remains a major problem within the party and society in general.
Zheng Xiaoyu (鄭筱萸), China's food and drug minister, was executed last year after being convicted of corruption.
Comments will be moderated. Keep comments relevant to the article. Remarks containing abusive and obscene language, personal attacks of any kind or promotion will be removed and the user banned. Final decision will be at the discretion of the Taipei Times.