Clinton replaces campaign manager
Democratic Senator Hillary Rodham Clinton replaced campaign manager Patti Solis Doyle with longtime aide Maggie Williams on Sunday, engineering a shake-up in a presidential campaign struggling to overcome rival Barack Obama's financial and political strengths.
The surprise announcement came hours after Obama's sweep of three contests on Saturday and shortly before the Illinois senator won caucuses in Maine on Sunday.
Determined to maintain her overall lead in the race, Clinton turned to a longtime confidante, Maggie Williams, to manage her operations while the campaign acknowledged that she made a private visit to North Carolina this week to seek the endorsement of former rival John Edwards. Obama was planning his own meeting yesterday with Edwards, who confidantes said was torn over which candidate to back.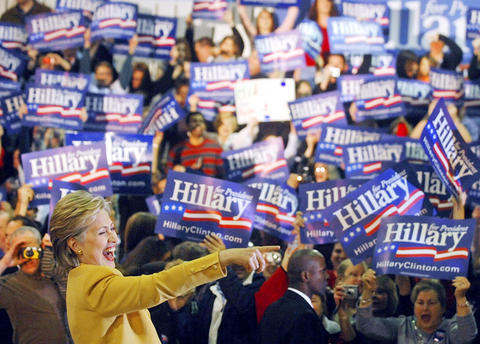 Democratic presidential hopeful Hillary Rodham Clinton reacts as she meets supporters during the ''Solutions for America'' Town Hall campaign stop at Grace E. Metz Middle School in Manassas, Virginia, on Sunday.
PHOTO: AP
Campaign aides said Patti Solis Doyle made the decision to leave on her own and was not urged to do so by the former first lady or any other senior member of the team. But it comes as Clinton struggles to catch Obama in fundraising and momentum and faces the prospect of losing every voting contest yet to come this month.
Solis Doyle announced the shift in an e-mail to the staff on Sunday.
"I have been proud to manage this campaign and prouder still to call Hillary my friend for more than 16 years," Solis Doyle wrote. "Maggie is a remarkable person and I am confident that she will do a fabulous job."
Solis Doyle said she will serve as a senior adviser to Clinton and the campaign and travel with Clinton from time to time.
Williams, who served as Clinton's White House chief of staff, joined the campaign after the New York senator narrowly won the New Hampshire primary on Jan. 8. She will begin assuming the duties of campaign manager this week.
"I think this is one of the most important things I could be doing," Williams said. "I don't think you can accept one of these jobs unless you care about the future."
After Clinton's third-place finish in the Iowa caucuses that started off the nomination process, Williams and other strategists with ties to Bill Clinton's White House were brought aboard to help hone the political operation and sharpen the candidate's message.
Campaign aides said that Solis Doyle, who has two young children, made the decision to step down as campaign manager at the time and agreed to stay on until last week's Super Tuesday, when more than 20 states held primary contests.
The staff shake-up caps a week in which Clinton grabbed the bigger prizes on Super Tuesday, winning New York, California and New Jersey, but Obama prevailed in more contests. Obama won the popular vote in 13 states, while Clinton won in eight states and American Samoa.
Both Clinton and Obama have been competitive in fundraising for most of the campaign; each raised more than US$100 million last year. In the last few weeks, however, Clinton lagged behind Obama as he raised US$32 million last month to her US$13.5 million, forcing her to lend her campaign US$5 million before Super Tuesday.
The campaign said on Saturday that it had raised US$10 million since the beginning of this month.
Obama enjoyed a three-state sweep on Saturday night, winning the Louisiana primary and caucuses in Washington state and Nebraska. He has the potential to pad his victories in contests Tuesday in Maryland, Virginia and the District of Columbia, as well as next week in Wisconsin and his native Hawaii.
In a statement, Clinton praised Solis Doyle and said she looked forward to her continued advice in the coming months.
"Patti Solis Doyle has done an extraordinary job in getting us to this point -- within reach of the nomination -- and I am enormously grateful for her friendship and her outstanding work," Clinton said. "And, as Patti has said, this already has been the longest presidential campaign in history and one that has required enormous sacrifices of everyone and our families.
"I look forward to her continued advice in the months ahead," Clinton said.
Comments will be moderated. Keep comments relevant to the article. Remarks containing abusive and obscene language, personal attacks of any kind or promotion will be removed and the user banned. Final decision will be at the discretion of the Taipei Times.