Suicide blasts kill at least 34 in Iraq
FALLING STATISTICS Despite the large number of victims in Tuesday's blasts, the US military said violent attacks in Iraq had dropped by 60 percent since June
Two separate suicide attacks in Iraq killed at least 34 people and wounded scores more on Tuesday, local and US military authorities said, shattering more than a week of relative calm.
A suicide truck bomb exploded outside a residential complex belonging to a state-run oil company in the town of Beiji, about 250km north of Baghdad, killing 25 people and wounding 80, police and hospital officials said.
Most of those killed were civilians, and at least four were children, a police officer said. The dead also included guards of the oil company and members of the volunteer force. An official at the main hospital in Beiji gave the same casualty figures.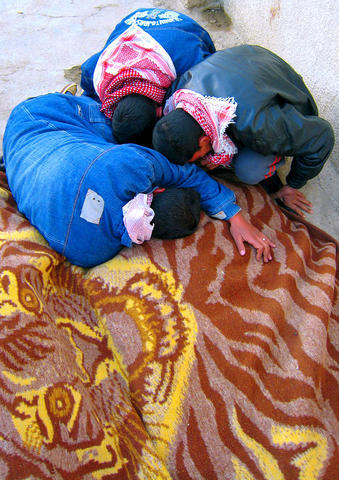 Members of a US-backed anti-al-Qaeda group grieve for their two deceased colleagues in Baqubah, 60km northeast of Baghdad, on Tuesday. A suicide bomber detonated himself amid mourners at a funeral procession for two members of the group, killing at least nine people, police said.
PHOTO: AP
Both officials spoke on condition of anonymity because they were not authorized to release information to the media.
In Baqubah, 60km northeast of Baghdad, 10 people were killed and five people were wounded in a suicide bombing, the US military said. Baqubah police said Dr Ahmed Fuad of Baqubah hospital put the death toll at nine.
Local officials said a bomber wearing an explosives vest targeted a funeral procession for two members of an Awakening Council group -- fighters who have turned against al-Qaeda in Iraq -- who had been accidentally killed by US troops during a dawn raid.
The US military said in a statement that a coalition forces raid in Baqubah killed two people, one of whom was revealed later to be a member of such a group, which the US military call "Concerned Local Citizens."
In Beiji the bomber detonated his explosives-rigged pickup truck when Iraqi police and members of a volunteer security force prevented him from entering the gate of a compound belonging to the state-run North Oil Company, a police officer said.
Local officials said they feared more victims might be buried in the rubble of two buildings damaged by the suicide truck bomb.
The US military reported that a member of a volunteer group said two people had been in the truck. It gave the casualty figures as 20 dead and 80 wounded, and said the most severely injured were taken to a hospital in Tikrit.
Beiji's police chief, Saad al-Nafous, was fired, said Major General Abdul-Karim Khalaf, a spokesman for the Interior Ministry. Authorities imposed a curfew on the city -- home to the country's largest refinery -- until further notice.
The wounded, bloodied and bandaged were crowded into the rooms and hallways of the Beiji General hospital. Three bodies -- one of a child -- were laid out on the floor, covered with white sheets.
In the northern city of Mosul, 360km northwest of Baghdad, a roadside bomb hit the passing convoy of the governor of Nineveh province, Durayid Kashmoula. The governor was not injured, but his driver and one of his bodyguards were wounded, said Brigadier Mohammad al-Wakka of Nineveh police.
Despite Tuesday's attacks, there has been a clear reduction of violence in Iraq in the past few months. The US military has said violent attacks have fallen by 60 percent since June.
The Awakening Councils, which are funded by the US, have been credited with helping reduce the violence, and while bombings and other attacks continue throughout the country, their number and frequency has fallen.
Iraq's oil industry and those who work in it have come under repeated attack since the US-led 2003 invasion, usually through bombings of key pipelines. Revenue from the oil industry is seen as key to funding Iraq's reconstruction and sparking economic recovery.
Meanwhile, the US military said troops killed 13 suspected insurgents and detained another 27 on Monday and Tuesday in operations targeting al-Qaeda in Iraq in the central and northern parts of the country.
Separately, eight bodies were found in rivers and on city streets. Baghdad police found two bullet-riddled bodies in Karkh on the western side of the Tigris River that flows through the capital, and one in Risafa on the eastern side, a police officer said on condition of anonymity.
To the south, four bodies found floating in the Tigris were taken to the morgue in Kut, 160km southeast of Baghdad, said Hadi al-Atabi of Kut morgue. In Mosul, northern Iraq, one body was found dumped on the streets in an eastern neighborhood of the city.
Comments will be moderated. Keep comments relevant to the article. Remarks containing abusive and obscene language, personal attacks of any kind or promotion will be removed and the user banned. Final decision will be at the discretion of the Taipei Times.