Australian PM to target Aboriginal welfare issues
UNION MAN Kevin Rudd also announced amendments to the nation's Workplace Relations Act that would begin to dismantle the former administration's 'extreme' labor laws
Anger over the gang rape of a 10-year-old Aboriginal girl has prompted Australia's new Labor government to make indigenous welfare the focus of a summit of national and state leaders this week.
Prime Minister Kevin Rudd, who has promised to close a 17-year average lifespan gap between Aborigines and other Australians, said yesterday that indigenous equality would take precedence at Thursday's summit in Melbourne.
"We believe these are critical areas of great interest and relevance to Australian families," Rudd told reporters after closed-door talks with senior Cabinet members in Canberra.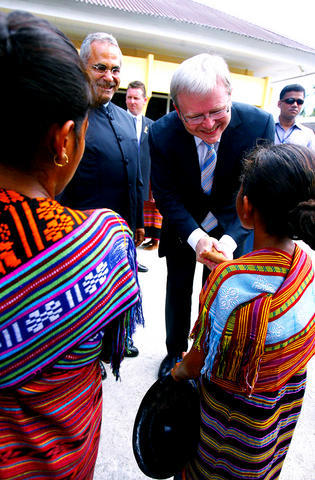 Australian Prime Minister Kevin Rudd, second right, and East Timorese President Jose Ramos-Horta, second left, greet young Timorese girls in traditional dress in Dili on Friday. Australia's newly elected prime minister said yesterday that he would make Aboriginal welfare the focus of a summit of national and state leaders this week.
PHOTO: AFP
Rudd's government has been under pressure to solve a long-running crisis in indigenous welfare, highlighted last week by the gang rape of a young girl in an Aboriginal community on Cape York, the country's northern tip.
Aborigines are Australia's most disadvantaged group with many living in third-world conditions in isolated outback settlements. Just 18,000 live in Cape York, an area the size of Germany.
The summit meeting between Labor leaders, now in control across the country since Rudd's election victory over former prime minister John Howard last month, is expected to lay the ground for coordinated action to improve Aboriginal welfare.
It will be the first between Rudd and state leaders.
A judge sparked public outrage last week when she found a 10-year-old girl "probably agreed" to have sex with nine males in the township of Aurukun last year, declining jail terms for the men who pleaded guilty to the crime.
Meanwhile, Rudd said yesterday his Cabinet had formally agreed to strip back the former government's work laws which he described as the "most extreme that this country had ever seen."
"We believe this is an important decision because so many working families have been adversely affected by the existing range of laws," he told a press conference in Canberra after the meeting.
Rudd said key amendments to the Workplace Relations Act would begin to dismantle the former administration's laws, which encouraged workers to negotiate their pay and working conditions directly with their bosses rather than through collective bargaining.
The Labor Party, which made repealing the legislation a key electoral pledge, argued this arrangement was unfair and would force workers to bargain away holidays, overtime benefits and other entitlements to keep their jobs.
The labor laws played a large role in the ousting of the Howard government.
"For us, this is a key part of our commitment to the Australian people," Rudd said.
Labor's Workplace Relations Minister Julia Gillard, who is also Deputy Prime Minister, said the old laws cost too many Australians basic employment conditions such as penalty rates, overtime and redundancy payments.
"The transition bill will also kick off a new era of industrial relations with a streamlined and modern award system," she said. "This is not only better for employees who rely on the safety net, it's better for employers who want to have a simple, modern safety net. Something that they can check easily and know what their obligations are."
Amendments will be put before the parliament at its next sitting in February, while a more substantial tranche of changes would be introduced later in the year following consultation with business groups, she said.
Comments will be moderated. Keep comments relevant to the article. Remarks containing abusive and obscene language, personal attacks of any kind or promotion will be removed and the user banned. Final decision will be at the discretion of the Taipei Times.