Rice, Gates to seek Arab support
MIDDLE EAST TRIP The two top officials are expected to reaffirm US commitment to regional security and address concerns over some Arab states supporting Iraqi rebels
US President George W. Bush's defense chief and top diplomat headed yesterday on a vital mission to the Middle East to seek Arab support for Iraq and discuss weapons sales to regional allies.
Amid growing calls at home to withdraw US forces in Iraq, Secretary of State Condoleezza Rice and Secretary of Defense Robert Gates were also expected to reaffirm Washington's commitment to regional security against possible threats from Iran and its nuclear program.
In addition, Washington is expected to underline concerns that some Sunni Arab nations are offering financial aid to foreign fighters, fueling the insurgency against the fragile Shiite-led, US-backed government in Baghdad.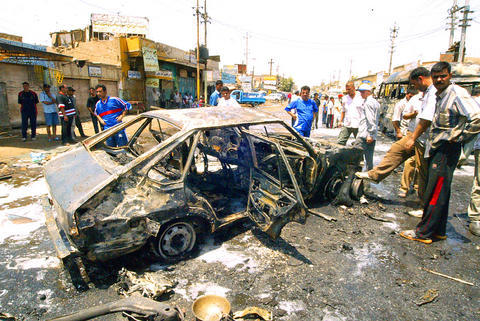 Iraqis gather around the wreckage of a car on the site where a large explosion rocked Baghdad yesterday, sending a giant black cloud of smoke rising above the city center. At least four microbuses and two cars were engulfed in flames, but security officials were not immediately able to provide information about casualties.
PHOTO: AFP
On the trip, Rice and Gates will make rare joint visits to Egypt and Saudi Arabia before separate trips to other parts of the region.
US Ambassador to the UN Zalmay Khalilzad complained on Sunday that some neighbors of Iraq, including Saudi Arabia, were undermining efforts to stabilize the war-ravaged nation.
Khalilzad acknowledged on CNN that he was also referring to Saudi Arabia when he wrote in an opinion piece in the New York Times last week that "Several of Iraq's neighbors -- not only Syria and Iran but also some friends of the United States -- are pursuing destabilizing policies."
"Yes, well, there is no question that ... Saudi Arabia and a number of other countries are not doing all they can to help us in Iraq," Khalilzad, the former US ambassador to Iraq, told the US news network.
Washington is particularly concerned that its most powerful Sunni Arab ally, Saudi Arabia, is bankrolling Sunni militants and serving as a conduit for them to stoke the insurgency in Iraq.
Aside from Saudi Arabia, foreign fighters flowing into Iraq via US arch-enemy Syria come from Qatar and Yemen, among other Middle East allies, US officials said earlier this week.
Gates and Rice will "discuss the ways in which Iraq's neighbors can help advance the cause of security and stability in that country," State Department spokesman Sean McCormack said.
The duo "are going to be talking to the Saudis as well as others about what they might do" in supporting the Iraqi government, not only on the security front but also diplomatically and financially, McCormack said.
Their "historical differences and tensions are going to need to be overcome," he said.
In a bid to soothe concerns of the pro-Western Sunni nations worried about Shiite Iran, Washington is also expected to discuss military aid packages and arms sales with them.
The arms deals worth a reported US$20 billion, an administration official said, are aimed at shoring up US allies in the Middle East and countering "a more aggressive Iran."
US allies in the Gulf are "very concerned about what our commitment and the possibility of withdrawal from Iraq means for the region," a Pentagon official said.
Gates will reassure them that "regardless of what happens in the near term in Iraq, that our commitment in the region remains firm, remains steadfast and that in fact we are looking to enhance and develop it."
Meanwhile, Israeli Prime Minister Ehud Olmert announced on Sunday a new US$30 billion US defense package to preserve Israel's regional military superiority.
A senior State Department official said US allies in the Gulf did not trust Washington and were unlikely to commit to any course of action.
"Our credibility is in tatters," the official said, speaking on condition of anonymity.
"That doesn't mean they are not concerned about Iran. It just means they just don't know what we are going to do," the official added.
In Egypt, Rice and Gates are to meet ministers of the Gulf Cooperation Council countries -- Saudi Arabia, the United Arab Emirates, Kuwait, Qatar, Bahrain and Oman -- as well as Jordan and Egypt in the Red Sea resort of Sharm El Sheikh.
Rice will travel separately to Jerusalem and Ramallah for meetings with Israeli and Palestinian officials.
Comments will be moderated. Keep comments relevant to the article. Remarks containing abusive and obscene language, personal attacks of any kind or promotion will be removed and the user banned. Final decision will be at the discretion of the Taipei Times.