Wildfires in western US kill one, destroy 27 homes
One of dozens of fires across the western US raced out of a canyon in South Dakota's Black Hills "with a vengeance," killing a homeowner and destroying 27 homes, authorities said.
Residents of about 50 homes had fled the wildfire near Hot Springs, which also injured two firefighters and closed a section of a state highway, state and federal officials said on Sunday. An area of roughly 23km2 has burned since the fire was sparked on Saturday by lightning.
One person was killed while trying to retrieve possessions from a home. The identity of the person was withheld until relatives could be notified, authorities said.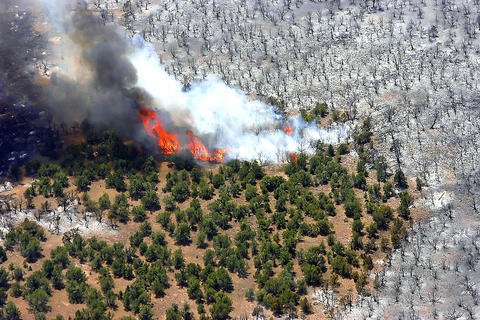 The Milford Flat fire burns around Interstate 15 near the Interstate 80 interchange, seen in this aerial view on Sunday afternoon near Fillmore, Utah. A massive wildfire that has swept across two counties in central Utah grew to 114,500 hectares, making it the largest wildfire in the state's recorded history.
PHOTO: AP
"This thing blew up because of extreme hot temperatures and the winds," said Joe Lowe, state wildland fire coordinator. "It came out of the canyon with a vengeance."
High wind near Wenatchee, Washington, overnight spread a brush fire that threatened homes. By Sunday morning, 250 to 270 homes had been evacuated, and at least three outbuildings were destroyed.
In fire-swept Nevada, about 1,500 evacuees from Winnemucca were allowed back to their home hours after a wildfire destroyed an electrical substation and several outbuildings, shut down the interstate highway, delayed trains, and killed livestock. No injuries were reported.
In Utah, the largest wildfire in state history grew to 114,500 hectares on Sunday. The blaze has swept through about 1,144m2 of extremely dry sagebrush, cheat grass and pinion juniper in central Utah.
A fire in Arizona burned at the base of a mountain that is home to several expensive telescopes. A spokesman at Kitt Peak told KSAZ-TV that he was concerned but not alarmed. Tankers were dropping retardant between the fire and the observatory, the station reported.
Other fires blackened the rural landscape in California, Colorado, Arizona, Idaho, Montana and Oregon.
Comments will be moderated. Keep comments relevant to the article. Remarks containing abusive and obscene language, personal attacks of any kind or promotion will be removed and the user banned. Final decision will be at the discretion of the Taipei Times.