General strike closes much of Nigeria
A general strike gripped Nigeria on Wednesday, posing the first significant test for the new president and prompting speculation that oil markets might be upset by possible disruption to supplies from one of the world's top crude exporters.
In fact oil prices fell heavily after the US government said that its energy stockpiles had risen strongly last week, offsetting any concerns about the Nigerian strike.
The main Nigerian labor unions decided to go ahead with the strike after the government of President Umaru Yar'Adua, who was only sworn in late last month, refused to reverse a 15 percent hike in the price of petrol.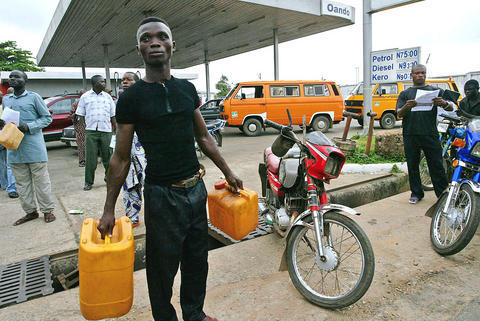 A man stands with a plastic container waiting for fuel at a gas station in Lagos, Nigeria, on Wednesday. Nigeria's powerful labor unions launched a general strike on Wednesday to protest government price hikes.
PHOTO: AP
"The general strike and mass protest continue tomorrow [yesterday]. As we have earlier announced, the strike will be indefinite until the federal government returns the price of petrol [gas] to 65 naira [US$0.51]," Abdulwaheed Omar, head of the blue-collar Nigeria Labour Congress, told reporters.
He urged workers to set up compliance squads countrywide "to ensure all work places are shut down."
"The burden of fixing Nigeria and removing the landmines planted by former president Olusegun Obasanjo rests on President Yar'Adua. This responsibility cannot be shifted or repudiated merely on the excuse that the problems were inherited," he said.
He was referring to a series of unpopular measures such as the fuel price increase introduced by Obasanjo in his last days in power.
"President Yar'Adua needs to appreciate that it is not a sign of weakness to listen to the people and act in accordance with their will," Omar said.
The federal government said on Wednesday it was doing everything possible towards ensuring an early resolution of the strike action.
"The government wishes to warn however, that while it respects the right of any worker to embark on strike action, that right should not be used as an excuse to instigate a breakdown of law and order," the government said in a statement.
In the commercial capital Lagos, streets that are normally jammed were virtually free of traffic, with the impact of the strike worsened by heavy rain.
Some workers complained they had tried to come into work but said they had been turned back by union officials at impromptu roadblocks.
In the administrative capital Abuja only a few senior government officials showed up for work.
Most government schools were closed across the country, as were banks. Many flights were suspended or disrupted, but markets, street food stalls and some supermarkets stayed open.
By Monday fears of the walkout, which unions had been threatening for two weeks, and which could further hamper oil exports from Nigeria -- Africa's biggest oil producer and the world's sixth largest exporter -- had sent crude prices to their highest levels in nine months.
But initially there were no signs of production being affected.
"There's still no sign of anything being paralyzed for the time being," one oil industry source said.
Union officials said it was just a matter of time until exports were hit.
Comments will be moderated. Keep comments relevant to the article. Remarks containing abusive and obscene language, personal attacks of any kind or promotion will be removed and the user banned. Final decision will be at the discretion of the Taipei Times.