Elusive alligator captured in Los Angeles park
NEW HOME FOR `REGGIE' The creature was transported to a local zoo, which plans to keep it quarantined from 30 to 60 days before introducing it to other alligators
A 2m alligator believed to be the elusive "Reggie" who lurked in a park lake for two years was captured in a wrestling match with a reptile expert and rangers.
Several would-be gator wranglers have failed to remove the wily Reggie since the reptile was first spotted in 2005. The animal then managed to disappear for 18 months until being sighted again at the end of last month.
On Thursday, the alligator came out of Harbor Regional Park's Lake Machado and was spotted on land at about 3:30pm -- just as city and park officials and wildlife experts were meeting nearby to find a way to capture the nonnative reptile.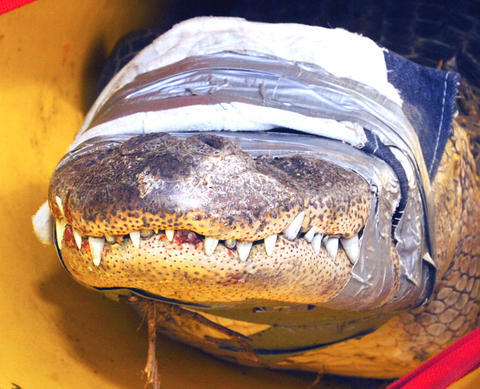 An alligator captured on Thursday at Harbor Regional Park's Lake Machado in Los Angeles is pictured at Los Angeles Zoo. The alligator is believed to be the elusive ``Reggie`` who lurked in a park lake for two years.
PHOTO: AP
`let's get him'
"We were about to talk about strategies for catching him when somebody called and said: `He's out of the lake,'" said City Councilwoman Janice Hahn, whose district includes the park. "So we said: `Let's go now, let's get him.'"
The cold-blooded creature was sunning itself in an area fenced in several days ago in hopes of corralling it. Park officials closed a gate, and Los Angeles Zoo reptile expert Ian Recchio was able to put a hook around its neck.
"Then one guy laid on top of him. He was thrashing around, so four or five guys held his head and tail to get him contained. They managed to put duct tape around his mouth," Hahn said.
Hahn was certain the alligator was Reggie.
"He looks like Reggie to me," she said. "We were petting him, talking to him. I feel like I know him because I've invested a lot of time and energy in him."
Firefighters strapped it to a board and loaded it into an animal control truck for transport to the zoo. A police car escorted the truck as news helicopters followed and broadcast the trip live.
The zoo planned to keep Reggie in quarantine from 30 to 60 days and then eventually introduce the animal to other alligators.
former policeman
Reggie was an illegal pet allegedly tossed into the 20-hectare lake by a former policeman when it got too big. The officer pleaded not guilty last month to 14 misdemeanor charges and awaits trial.
When the animal was first spotted in the murky lake in August 2005, it became a sensation as crowds gathered to catch a glimpse. Locals named it Reggie, though it's not clear whether the reptile is male or female.
Gloria and Danny Gutierrez said they would go to the lake several times a week and watch for Reggie. Gloria Gutierrez wore a T-shirt saying "Welcome back, Reggie."
"We'd bring our chairs out here and a bag of fruit, and we'd talk with people we didn't even know," Danny Gutierrez said.
The gator inspired a song, two children's books and innumerable T-shirts. Students at Los Angeles Harbor College next to the lake adopted Reggie as a second mascot.
Comments will be moderated. Keep comments relevant to the article. Remarks containing abusive and obscene language, personal attacks of any kind or promotion will be removed and the user banned. Final decision will be at the discretion of the Taipei Times.