Dignitaries bid farewell to `father of Samoa' Malietoa
Bare-chested warriors joined foreign dignitaries in bidding a final farewell to Samoa's head of state, Malietoa Tanumafili II, one of the world's longest reigning leaders, who was buried amid traditional ceremonies.
Malietoa, fondly referred to as "the father of Samoa" by speakers at his funeral service in the capital, Apia, died on May 11 in Tupua Tamasese National Hospital, aged 94.
He had led Samoa ever since it gained independence from New Zealand in 1962 and had headed his chiefly clan since 1940.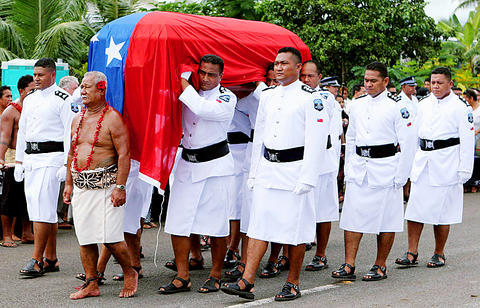 Pallbearers take Samoan Head of State Malietoa Tanumafili II to his final burial plot at Parliament Grounds, Apia, Samoa, on Friday.
PHOTO: AP
Initially appointed the joint head of state with another powerful chief, Tupua Tamasese Meaole, when Samoa became independent, Malietoa succeeded to sole head of state a year later when Tupua Tamasese died.
He held the post for life.
His successor, however, will be elected by the legislature to a five year term as stipulated in Samoa's Constitution.
Among foreign dignitaries at Malietoa's funeral and burial on Friday were the King of Tonga, George Tupou V, New Zealand Maori King Tuhetia, New Zealand Prime Minister Helen Clark, and officials from Fiji, Tuvalu, American Samoa, Niue, Japan, China, French Polynesia and Australia.
Bare chested warriors wearing traditional woven mourning mats and orange lei surrounded the open-sided funeral fale, or house, sheltering Malietoa's red-and-blue flag draped coffin during the service attended by thousands.
"While this means the passing of our dearly beloved father ... he is a hero who has put the sword in the sea and God calls him forward forever," Reverend Oka Feolo, chairman of the Samoan Council of Churches, told mourners.
Samoan Prime Minister Tuilaepa Sailele Malielegaoi said "Samoa's deep grief is shared ... by all these people" gathered to farewell Malietoa and acclaim "his long and valuable services" to the nation.
He praised the late head of state as "the personification of Samoan peace and unity."
Following the service, a contingent of official pallbearers carried the flag-draped coffin for burial in the Malietoa area of the chiefly cemetery at Mulinnu, near Parliament.
Malietoa was the last survivor of a generation of South Pacific leaders that included Fiji's late president, Ratu Sir Kamisese Mara, New Zealand's late Maori Queen, Dame Te Atairangikaahu and the late King of Tonga, Taufa'ahau Tupou IV.
Comments will be moderated. Keep comments relevant to the article. Remarks containing abusive and obscene language, personal attacks of any kind or promotion will be removed and the user banned. Final decision will be at the discretion of the Taipei Times.