Thai zookeepers choose high-tech option after panda porn videos fail to arouse
After panda porn failed to spark amour, Thai zoo authorities turned yesterday to artificial insemination in the hope of impregnating their lone female giant panda.
Authorities at the Chiang Mai Zoo inseminated Lin Hui with semen from her cage-mate, Chuang Chuang, yesterday morning and will repeat the procedure today.
The artificial insemination is a last ditch effort to get Lin Hui pregnant, after videos of pandas having sex failed to entice Chuang Chuang into mating.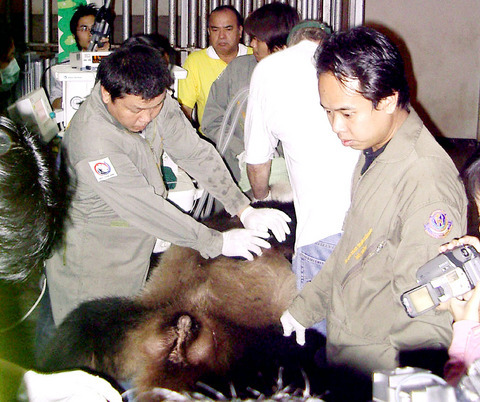 Zookeepers take semen from Chuang Chuang, a six-year-old panda, yesterday prior to an artificial insemination procedure at Chiang Mai Zoo in Chiang Mai Province, Thailand. The zoo resorted to artificial insemination for their giant pandas after daily pornographic videos and a low-carb diet failed to produce the required effect.
PHOTO: AFP
"He just didn't want to mate. He was looking at her as a friend," said Sophon Dummui, director general of Thai Zoo Organization of Thailand which oversees the Chiang Mai Zoo.
"We saw that Chuang Chuang wasn't mating with the female," he said. "If we don't do artificial insemination, then maybe we couldn't have a baby this year. We think the artificial insemination is the best option."
Thailand rented six-year-old Chuang Chuang and five-year-old Lin Hui from China for US$250,000 in October 2003 for 10 years.
Since then, they have tried everything from putting Chuang Chuang on a special diet to holding a mock wedding before resorting to artificial insemination.
Chuang Chuang, who had been deemed too heavy to mate with Lin Hui, lost 7kg after being put on a low-carbohydrate diet.
But despite his new svelte figure, the male did not respond to the 15-minute video clips showing successful panda couplings.
While artificial insemination is being tried on pandas for the first time in Thailand, it has been used for more than 50 years in China.
"We have to wait for about four months from now to see whether the artificial insemination was successful or not," a zoo officialsaid.
The zoo is also considering bringing in a snow machine to help recreate a mountainous habitat.
Giant pandas have a very low fertility rate because they are sexually inactive.
Comments will be moderated. Keep comments relevant to the article. Remarks containing abusive and obscene language, personal attacks of any kind or promotion will be removed and the user banned. Final decision will be at the discretion of the Taipei Times.