Attacks claim six lives in Thailand
NEW YEAR MAYHEM Three people of Chinese descent were shot dead in Pattani, another person was shot in Narathiwat, and blasts at a karaoke bar killed two others
Striking while thousands were celebrating Lunar New Year, suspected Muslim insurgents killed six people and wounded at least 50 in overnight bombings and attacks across four provinces in southern Thailand, officials said yesterday.
An army spokesman said Islamic insurgents were trying to scare ethnic Chinese out of the predominantly Muslim region.
The violence continued yesterday as bombs exploded at three locations, killing one army major, injuring three policemen and wounding seven others.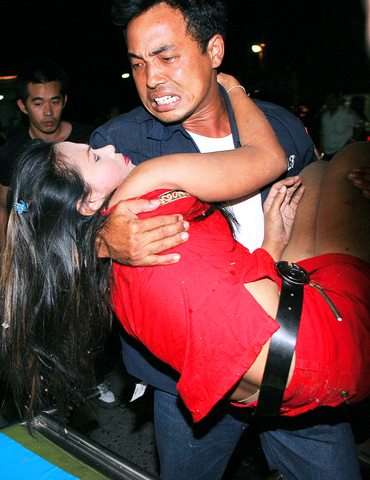 A Thai volunteer rushes an injured woman from a karaoke bar following a bomb blast in the town of Betong in Thailand's restive southern Yala Province on Sunday.
PHOTO: AFP
The attacks were the second wave of New Year's bombings Thailand has faced in recent months. Bangkok was struck by a series of eight explosions on Dec. 31, although authorities said southern insurgents were not responsible. Three people were killed and almost 40 wounded.
Sunday's attacks were the first time the insurgents have struck all four of the enflamed southern provinces -- Yala, Narathiwat, Pattani and Songkhla -- at the same time, army spokesman Colonel Akara Thiprote said.
"The insurgents wanted to scare away Chinese businessmen from the region. That's why they attacked on Sunday, the day that Chinese people celebrate after they pay homage to their ancestors. The insurgents do not want people of other religions to live with them," Akara said.
Triggered by digital watches, 29 bombs rocked the predominantly Muslim deep south, most of them set to explode between 7:15pm and 8pm, Akara said. The targets were karaoke lounges, hotels, schools, gasoline stations and power grids.
Three people of Chinese descent were gunned down in Pattani, another person was shot and killed in Narathiwat, while bombs at a karaoke parlor in the tourist town of Betong on the Malaysian border killed two others, Akara said.
Four of the 50 injured were in critical condition, he said. Akara said the bombs weighed 3 to 5kg.
The violence near the Malaysian border continued yesterday morning when a homemade bomb killed a Thai army major near his home in Yala Province and wounded a seven-year-old boy, provincial police chief Major-General Phaitoon Chuchaiya said.
In Narathiwat Province, police said three officers were injured by a bomb explosion yesterday as their eight-man patrol neared a small railway station in Rue So district. The bomb, planted on the station roof, was reportedly triggered by a mobile telephone signal.
In the capital of Pattani, police reported seven people were injured when a bomb went off in a car sales showroom.
Violence in the south has been escalating in recent months despite a major policy shift by the military-imposed government, which is trying to replace an earlier iron-fisted approach in dealing with the rebels with a "hearts and minds" campaign.
More than 2,000 people have died in the four provinces since the insurgency erupted in 2004, fueled by accusations of decades of misrule by the central government. The insurgents have not announced their goals, but are believed to be fighting for a separate state imbued with radical Islamic ideology.
Military reports said that 17 bombs went amid Sunday's attacks in Yala, the worst-hit province, including seven in the border town of Betong, which attracts Malaysians, Singaporeans and other foreign tourists to its many entertainment venues. The tourist town of Sungai Kolok, along the Thai-Malaysian border in Narathiwat Province, was also attacked.
A sizable number of Sunday's bombings were against karaoke parlors, which are regarded as decadent by the Islamic rebels. At least two schools were burned down.
Two explosions tore through power stations in Pattani Province, causing blackouts in several areas, Pattani police Major-General Kokiat Wongworachart said.
Akara that besides disrupting the New Year festivities the rebels wanted to show the international community that the Bangkok government could not control the situation in southern Thailand, thus underlining the rebels' legitimacy as separatists.
Comments will be moderated. Keep comments relevant to the article. Remarks containing abusive and obscene language, personal attacks of any kind or promotion will be removed and the user banned. Final decision will be at the discretion of the Taipei Times.