Bird flu claims another victim
FEARS RISING With 42 deaths, a Hanoi official voiced concern over the ineffectiveness of efforts to combat the disease
Vietnam yesterday reported its first human bird flu death in more than three months, taking the country's toll to 42, amid fears that the deadly virus could thrive in the coming winter flu season.
The 35-year-old man from Hanoi died in hospital last month, after testing positive for the H5N1 virus. He was the first person known to have succumbed to avian flu in Vietnam since July 24.
"Samples taken from the victim were found to be positive for the virus in tests carried out at the National Institute of Epidemiology in Hanoi," health ministry official Tran Duc Long said.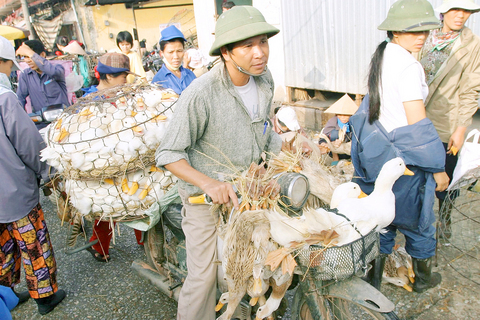 A man drives a load of ducks through a market in Hanoi, Vietnam, on Monday. Officials announced yesterday that a man who died in northern Vietnam late last month was killed by bird flu, bringing the total number of Vietnamese fatalities from the virus to 42.
PHOTO: EPA
The man was admitted to the Institute of Tropical Medicine in the capital on Oct. 26 and died three days later, Long said.
Official figures now show a total of 92 human cases of bird flu since late 2003, with 42 deaths. The country accounts for more than two-thirds of total human fatalities from bird flu.
News of the latest death came as experts meeting in Geneva warned that a bird flu pandemic was inevitable, could kill millions and inflict up to US$800 billion in economic damage.
Vietnam placed an order yesterday for 25 million doses of Tamiflu, the frontline medicine against a feared global flu pandemic.
Vietnam currently has 600,000 capsules in stock for a population of 82 million, but is also pursuing talks with Swiss drug maker Roche on producing Tamiflu for itself.
"The health ministry is negotiating with representatives of Roche in order to obtain the right to produce Tamiflu in Vietnam," ministry official Vu Thi Hiep said.
Efforts to prepare for a possible pandemic have gathered pace as winter approaches with experts warning that the cold weather could allow the virus to thrive.
"As we approach December and January, with the temperature dropping, the number of outbreaks is going to rise," said Fabio Friscia, a Hanoi-based representative of the UN's Food and Agriculture Organization.
The fear is that the more H5N1 virus spreads, the greater chance it has to mutate, picking up genes from ordinary flu and making it highly contagious from human to human.
The state press said yesterday that bird flu had broken out among poultry in six provinces in recent weeks and quoted Agriculture Minister Cao Duc Phat as saying more than 20,000 chickens and ducks had been culled.
"When you have more cases and more outbreaks, of course it's of concern but at the same time it shows that the surveillance is improving, which is very important," said WHO spokeswoman in Hanoi Dida Connor.
But Vice Premier Nguyen Tan Dung voiced concern over the ineffectiveness of efforts to combat bird flu.
"The fight against avian influenza does not correspond to the urgency of the situation," Dung said, pointing at a lack of awareness about the virus among large sections of the population
Comments will be moderated. Keep comments relevant to the article. Remarks containing abusive and obscene language, personal attacks of any kind or promotion will be removed and the user banned. Final decision will be at the discretion of the Taipei Times.