New Supreme Court nominee's stance on abortion provokes intense debate
The selection of Judge Samuel Alito Jr. for the Supreme Court drew immediate opposition on Monday from abortion rights groups who argued that he would fundamentally shift the balance of the court and open the door to major new restrictions on abortion.
Social conservatives praised him as the model of the conservative jurist US President George W. Bush had promised them, and the two sides mobilized for ideological war.
There was agreement on one thing. This was not a "stealth" nominee with no paper trail on abortion. Alito, in his 15 years on the 3rd US Circuit Court of Appeals, ruled several times on abortion cases, most notably in Planned Parenthood v. Casey.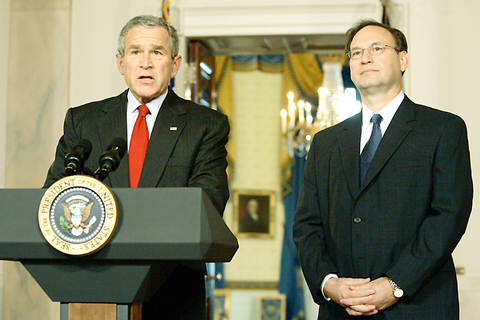 Bush, left, announces judge Samuel Alito as his Supreme Court justice nominee at the White House on Monday.
PHOTO: AP
In a dissent in that case, Alito said in 1991 that a Pennsylvania law that required women to notify their husbands before they had abortions was not an "undue burden" and was, therefore, constitutional. The Supreme Court rejected that position in 1992.
"This is an important window into his views of women's rights to self-determination, their rights to determine the course of their lives," said Kate Michelman, a longtime activist and a former president of Naral Pro-Choice America.
Signaling the intensity of the battle to come, Michelman noted that she was required to seek her then-husband's permission for a therapeutic abortion in 1969, even though he had abandoned her and her three children.
Abortion opponents argued that Alito was precisely the kind of judge needed on the court. Tony Perkins, president of the Family Research Council, called Alito a "strict constructionist" with "the integrity, impartiality and commitment to the constitution that are absolutely vital for any judge expected to serve honorably on the Supreme Court."
Republican Senator Arlen Specter, of Pennsylvania, chairman of the Judiciary Committee, quickly weighed in on Alito's judicial stance and what it might mean on abortion. Specter is one of several moderate Republicans who support abortion rights, an important bloc if Democrats unite against Alito.
Specter, who has known Alito for nearly 20 years, said the judge believed that there was a constitutional right to privacy and understood the importance of longstanding precedents. The right to privacy is considered the pivotal underpinning to Roe v. Wade, and the importance of precedents is often cited by Specter and others as a big reason not to overturn it.
Specter added, "He used the term sliding scale and said that when a case had been reaffirmed many times it has extra -- I think he said weight -- as a precedent, reaffirmed by different courts, nominees appointed by different presidents."
Comments will be moderated. Keep comments relevant to the article. Remarks containing abusive and obscene language, personal attacks of any kind or promotion will be removed and the user banned. Final decision will be at the discretion of the Taipei Times.