Iraq attacks getting more sophisticated
INCIDENTS INCREASING October was the fourth-deadliest month for US troops since the invasion of Iraq in 2003, with at least 92 soldiers confirmed dead
One day after the release of new casualty figures showing that October was the fourth-deadliest month for US forces in the Iraq war, the military issued a report yesterday showing how hard it can be to prevent the deadliest form of attack: roadside bombs.
The report, summarizing combat operations in and around Baghdad over a five-day period, said US forces had found several powerful roadside bombs hidden in two vehicles on Saturday.
The day before, US soldiers caught three suspected insurgents planting a bomb on the side of a street and defused it before it could be used in an attack. On Thursday, a roadside bomb exploded, damaging a US patrol, and when its soldiers chased three Iraqi men into a nearby home, they found it contained more bomb-making materials, the military said.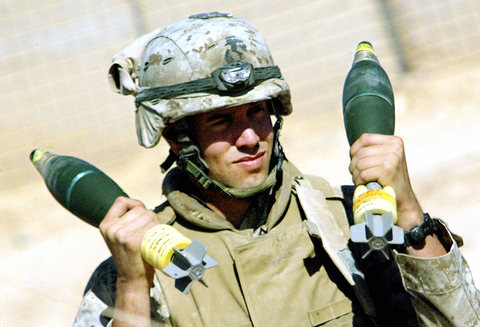 A US marine carries mortar rounds that he was preparing to fire at insurgents from his position on the Iraqi-Syrian border in western Iraq last week. Insurgents fighting the US-led coalition in Iraq remain active in this small town on the border with Syria, despite repeated military sweeps aimed at flushing them out.
PHOTO: AFP
On Monday, the US command reported that seven US service members were killed, six on Monday and one on Sunday. All of them were victims of increasingly sophisticated roadside bombs that have been become the deadliest weapon in the insurgents' arsenal.
The new deaths made October the fourth deadliest month for troops here since the war began.
A powerful roadside bomb also exploded on Monday among civilians in Basra, Iraq's second-largest city and the major metropolis of the Shiite-dominated south, which has witnessed less violence than Sunni areas.
Yesterday, Basra police raised the casualty figures to 20 dead and 71 wounded. The attack occurred along a bustling street packed with shops and restaurants as people were enjoying an evening out after the daily Ramadan fast.
In new attacks yesterday, two roadside bombs exploded, one in Baghdad and one south of the capital, killing a police officer and wounding three Iraqis, officials said.
On a road near Kirkuk, 290km north of Baghdad, a suicide attacker with explosives hidden beneath his clothes lunged at a police patrol that had been slowed by traffic, wounding the city's police commander, Colonel Khatab Rash, and his driver, police said.
Military commanders have warned that Sunni insurgents will step up their attacks in the run-up to the Dec. 15 election, when Iraqis will choose their first full-term parliament since the collapse of former president Saddam Hussein's regime in 2003.
To guard against such attacks, the military has raised the number of US troops in Iraq to 157,000 -- among the highest levels of the Iraq conflict.
Most of the combat deaths and injuries in recent months have been a result of the increasing use by insurgents of sophisticated bombs. The military refers to those bombs as "improvised explosive devices," or IEDs.
Last Friday, an IED killed Colonel William W. Wood, 44, of Panama City, Florida, an infantry battalion commander. He was promoted posthumously, making him the highest-ranking soldier killed in action in the Iraq conflict, according to the Pentagon.
Monday's deadliest attack against US service members came in an area known as the "triangle of death. Four soldiers from the US Army's Task Force Baghdad died when their patrol struck a roadside bomb in Youssifiyah, 19km south of Baghdad.
The US military death toll for October is now at least 92, the highest monthly total since January, when 106 US service members died -- more than 30 of them in a helicopter crash that was ruled an accident. The latest deaths brought to 2,025 the number of U.S. service members who have died since the Iraq war began in March 2003. The number includes five military civilians.
Comments will be moderated. Keep comments relevant to the article. Remarks containing abusive and obscene language, personal attacks of any kind or promotion will be removed and the user banned. Final decision will be at the discretion of the Taipei Times.