China talks Tamiflu with Roche
UPPING CAPACITY Amid fears of a bird flu pandemic, Beijing and the Swiss firm Roche are mulling joint manufacturing of the bird flu-fighting drug Tamiflu
Swiss drug company Roche is in talks with China about jointly producing its antiviral medication Tamiflu, a move that could boost its global production amid fears supplies will fall short of what is needed in case of a flu pandemic, reports said yesterday.
"We are talking with a number of Chinese authorities to see what is the best way to address the issue at this point," the Hong Kong newspaper South China Morning Post quoted Roche's chairman and chief executive officer Franz Humer as saying at a weekend conference of business and city leaders in Shanghai.
"We are certainly in discussions," Humer said.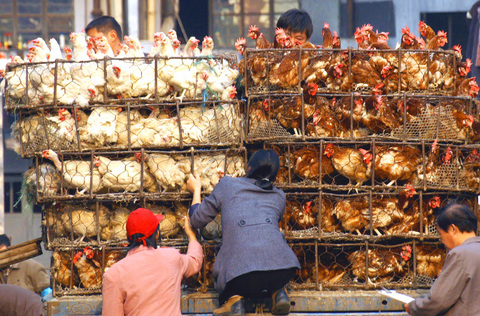 Vendors work in a poultry wholesale market in Shanghai on Sunday.
PHOTO: AP
Roche Holding AG has been inundated with requests from other pharmaceutical companies for licenses to produce Tamiflu, the drug experts believe to be the best defense against a possible flu pandemic.
The company's Shanghai office confirmed that like its branches elsewhere, "in view of the increasing urgency of the situation," it was open to discussing production with any potential partner with a capacity to make substantial amounts of the drug that would meet quality, safety and regulatory specifications.
"Roche is doing everything to increase its supply," the company said in a statement, adding that it expects to have increased production as much as 10-fold by the middle of next year, on its own.
Roche's office in Shanghai refused to comment by telephone and did not immediately respond to a written inquiry yesterday.
Reports in state-run newspapers said Roche had not yet received any formal applications from Chinese pharmaceutical companies.
The reports also questioned the ability of companies inside China to make the drug, given its complex production process.
Health authorities are hoping to boost stockpiles of Tamiflu in case the deadly H5N1 strain of bird flu spreading from Asia to Europe mutates into a form that can pass easily to and between people, setting off a human flu pandemic before a vaccine can be developed.
China has reported three bird flu outbreaks in poultry over the past month. No human cases have been reported, but authorities warned Friday that it was inevitable if the country couldn't prevent outbreaks in its flocks of chickens and ducks.
Pharmacists at several Shanghai drug stores said the drug was completely sold out. Reports last week cited complaints from some that the only stocks available locally were nearing their expiration dates.
Tamiflu has a shelf-life of five years, and the supplies Roche has said were available in China were due to expire by the beginning to middle of next year.
"We are currently looking to retest stability of this material to lengthen the shelf life," Roche said.
Roche, based in Basel, Switzerland, opened a research and development center in Shanghai a year ago and is building a factory that is expected to produce its transplant medication CellCept and chemotherapy drug Xeloda for China by next year.
Comments will be moderated. Keep comments relevant to the article. Remarks containing abusive and obscene language, personal attacks of any kind or promotion will be removed and the user banned. Final decision will be at the discretion of the Taipei Times.