Florida jittery as Wilma lashes Mexico
RECORD BREAKER The most intense hurricane ever seen in the Atlantic has already killed at least 13 people in the Caribbean and may take the lives of many more
Lashing wind and rain pounded Mexican beach resorts yesterday and thousands of tourists hunkered down in shelters to escape Hurricane Wilma, which was hammering Caribbean resorts on its way to densely populated southern Florida.
Heavy rain was coming down in diagonal sheets and howling winds were buckling sturdy trees.
Tourists were evacuated from luxury beachfront hotels all along Mexico's "Maya Riviera" coast and the normally calm, turquoise Caribbean seas heaved and Wilma dumped rain on streets patrolled by soldiers ordering people to take cover.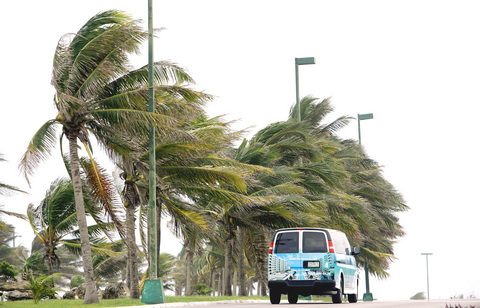 A hotel van used to evacuate guests passes wind-blown palm trees in Cancun's hotel zone as Hurricane Wilma approached the area on Thursday in Cancun, Mexico. Hurricane Wilma wobbled toward Mexico's Cancun resort and Florida on Wednesday, an ``extremely dangerous'' storm that has already killed at least 13 people in the Caribbean and was labeled the most intense ever to form in the Americas.
PHOTO: AP
Described by forecasters as extremely dangerous and at its height yesterday expected to send a 2.2m to 3.4m surge of water over the coast, Wilma killed 10 people in mudslides in Haiti earlier in the week.
Cuba evacuated 220,000 people and residents of southern Florida stocked up on drinking water and gas to prepare for Wilma, which hammered the coasts of Mexico and Belize with winds of around 240kph.
Mexican authorities said close to 22,000 tourists and local residents had been evacuated from low-lying coastal areas. In one gymnasium shelter in Cancun, 1,600 people spent the night on mattresses on the floor. One local entrepreneur sold T-shirts, perhaps prematurely, with the logo: "I survived Hurricane Wilma," at US$10 each.
About 100 bored-looking foreign tourists stood talking in groups under chandeliers in the cavernous marble lobby of the Hotel Royal Porto Real, near the sea front in Playa del Carmen, another resort just south of Cancun.
"It was meant to be the fortnight holiday of a lifetime," said 28-year-old Simon Hayes, one of four friends on holiday from Britain. "This is not how I envisaged it working out."
Conditions were far tougher for hundreds of migrant construction workers, mostly from the impoverished southern state of Chiapas, who were evacuated from temporary digs in outdoor camps and building sites.
Cramped
In a kindergarten near Playa del Carmen's beachfront, 50 men sat on the concrete floor of a classroom, too cramped for them to lie down, digging into cans of donated tuna fish with their hands. "This sucks," said Juan Cruz Perez, a 21-year-old migrant metal worker from the Gulf state of Tabasco.
Still, at one hotel doubling as a shelter because of its distance from the beachfront, Welshman Lee Watkins praised the Mexican emergency services and local people for their help in the evacuation.
"They got us out in plenty of time and as soon as we got here, the food started coming," said Watkins, a sales manager. "Mexican people have come here to cook for us. It's fantastic.
Wilma became the strongest Atlantic storm on record in terms of barometric pressure on Wednesday. It weakened to a Category 4 hurricane, then picked up again as it headed for Mexico's Yucatan Peninsula, where it was expected to hit around noon yesterday.
At 5am, Wilma was 88km southeast of Cozumel, Mexico, and was moving toward the north-northwest at roughly 9kph, according to the US National Hurricane Center. Forecasters said it would strike densely populated southern Florida late on Sunday.
Hurricane Season
The hurricane season has six weeks left and has already spawned three of the most intense storms on record. Hurricane experts say the Atlantic has entered a period of heightened storm activity that could last 20 more years.
Wilma was expected to miss Gulf of Mexico oil and gas facilities battered by Hurricanes Katrina and Rita in August and September, but Florida's orange groves were at risk.
The island of Cozumel, one of the world's best spots for scuba diving, faced a possible direct hit.
Authorities in the Keys, connected to mainland Florida by a single road, ordered tourists out and were considering telling the islands' 80,000 residents to evacuate.
Wilma was expected to bring 250mm to 500mm of rain through Sunday across parts of western Cuba and the Yucatan, the hurricane center reported, with isolated areas of mountainous western Cuba receiving up to 1,000mm of rain.
The storm's 882mb of pressure broke the record low of 888mb set by Hurricane Gilbert in 1988.
Comments will be moderated. Keep comments relevant to the article. Remarks containing abusive and obscene language, personal attacks of any kind or promotion will be removed and the user banned. Final decision will be at the discretion of the Taipei Times.