US envoy called in over kidnapped cleric scandal
Italy's relations with the US took a further blow on Thursday when Prime Minister Silvio Berlusconi's conservative government said it was summoning the American ambassador in Rome to explain the disappearance of a radical Muslim cleric, who was snatched from a Milan street two years ago.
Links between the traditionally close allies had already been strained by the shooting in March of an Italian intelligence officer by American troops in Iraq.
Last Friday, a judge in Milan ordered the arrest of 13 Americans -- purported to be CIA agents -- on charges of kidnapping. She was responding to a request from prosecutors who found evidence that the cleric, Hassan Mustafa Osama Nasr, also known as Abu Omar, was sent via two American military bases to his native Egypt for imprisonment and interrogation.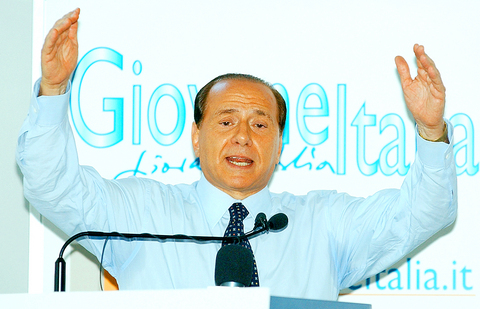 Italian Premier Silvio Berlusconi gestures as he speaks at a meeting in Milan, Italy, on Thursday. Berlusconi's government denied Thursday that it had prior knowledge of the alleged CIA kidnapping of an Egyptian cleric in 2003, an operation that has led prosecutors to seek the arrest of 13 purported CIA operatives.
PHOTO: AP
Nasr was subsequently released temporarily. In telephone calls intercepted by the Italian police, the cleric said he had almost died under torture.
Carlo Giovanardi, Berlusconi's minister for relations with parliament, categorically denied that the government had been told in advance by Washington of a plan to seize Nasr.
In statements to both houses of the Italian legislature, he said the reported operation was "never brought to the attention of the government of the republic or national institutions", a term that appeared to include Italy's intelligence agencies.
Giovanardi added that this meant it was "not even possible" that Italy had given permission for an operation.
The minister said a report from the US that claimed that the CIA had briefed and sought approval from Italian intelligence was "false and without any foundation."
The Washington Post quoted former and current CIA officials as saying that the agency and the Italian service had agreed that if the operation became public, neither side would confirm its involvement.
Comments will be moderated. Keep comments relevant to the article. Remarks containing abusive and obscene language, personal attacks of any kind or promotion will be removed and the user banned. Final decision will be at the discretion of the Taipei Times.