Suicide bombs kill 22 in central Baghdad
TAHRIR SQUARE ATTACK Dozens were wounded by the blasts, including several school girls, after a school and a schoolbus were damaged by the explosions
Two suicide car bombs exploded in a well known square in central Baghdad yesterday, killing 22 people, including two Americans, the US Embassy said.
Iraqi officials said more than 35 people were wounded in the attack in Tahrir Square, which damaged shops and set fire to other cars. The remains of several mutilated bodies were seen lying in the street as fire trucks fought the blaze, which sent a large plume of black smoke up into the sky.
Iraqi police first said the attack involved one suicide car bomb, but US Embassy spokesman Bob Callahan said two had exploded. He said the American fatalities were security contract workers, but did not identify their company.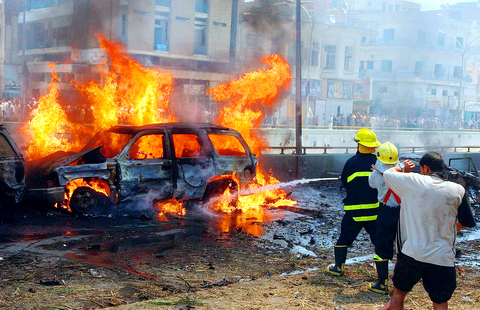 Iraqi fire fighters try to douse fire from two destroyed sport utility vehicles at the site where two car bombs exploded in the heart of Baghdad yesterday. At least 22 people, including two US security guards, were killed and more than 33 others wounded in the blasts.
PHOTO: EPA
Callahan's brief statement did not say how many people were wounded in the attack. But al-Kindi Hospital in Baghdad said it had received four bodies and 29 wounded victims from the square, which is well known for its shops and a large statue of Iraqi soldiers breaking through chains to freedom.
Two more bodies and seven injured people were sent to nearby Ibn al-Nafis Hospital, officials said.
The wounded included five school girls who were hurt when the blasts damaged al-Aqida Secondary School and a minibus driving by with students from nearby Dijla Elementary School, hospital officials and parents said.
Meanwhile, Iraqi militants holding an Australian engineer hostage issued a 72-hour ultimatum for Australia to start pulling its troops out of Iraq.
Al-Jazeera TV aired new footage on Friday of Douglas Wood and said the militants holding him had given Australia 72 hours to start withdrawing its forces from Iraq.
Comments will be moderated. Keep comments relevant to the article. Remarks containing abusive and obscene language, personal attacks of any kind or promotion will be removed and the user banned. Final decision will be at the discretion of the Taipei Times.