Abbas survives assassination bid
The interim Palestinian leader, Mahmoud Abbas, escaped unharmed after militants from his Fatah movement opened fire near him in a tent crowded with mourners for the late president Yasser Arafat -- a warning that the period leading to the Jan. 9 election of an Arafat successor could be chaotic and violent. \nAn Abbas bodyguard and a security officer were killed and six people were wounded in Sundays' shooting in Gaza City. The first shots triggered a chaotic firefight of several minutes with security guards -- though it appears from the casualty count that most fired in the air, rather than taking aim. \nSome 30 or 40 gunmen were involved, none of the masked, but police declined to say yesterday whether arrests had been made. The Al Aqsa Martyrs' Brigades, a violent group with ties to Fatah, denied it sent the gunmen, and the Hamas and Islamic Jihad groups were not considered suspects. \nAbbas, widely known as Abu Mazen, played down the incident, saying it was not an assassination attempt. \nHowever, some of the gunmen had chanted anti-Abbas slogans. \nSufian Abu Zaydeh, a Palestinian Authority official in Gaza, said he stood near Abbas when the shooting erupted. The gunmen "are people who don't accept Abu Mazen ... don't accept anyone," Abu Zaydeh told Israel Army Radio, but declined to say whether he recognized the armed men. \nThe temporary Palestinian leadership, headed by Abbas, has been trying to send a message of unity since Arafat's death last Thursday. \nThe death of Arafat has opened up what many leaders believe is a crucial opportunity to revive the peace process in the Middle East and lay the groundwork for Israel and a Palestinian state to live side by side without bloodshed. \nIn a policy shift, an Israeli official indicated that the Jewish state was reassessing its policy on its plan to pull troops and 8,800 Jewish settlers out of the Gaza Strip and four West Bank settlements. \nForeign Ministry spokesman Mark Regev said Israel would be willing to coordinate a planned withdrawal from Gaza if the Palestinian Authority cracks down on militant groups. \nIsraeli and Palestinian officials alike have expressed fears that an evacuation from Gaza without coordination would bring chaos to the Gaza Strip, where militant groups have been vying for control in recent months. \nMeanwhile, Abbas was due to hold separate meetings yesterday with representatives from the sprawling Palestinian security services and 13 main factions, officials said, including Hamas, Islamic Jihad, and the Fatah movement.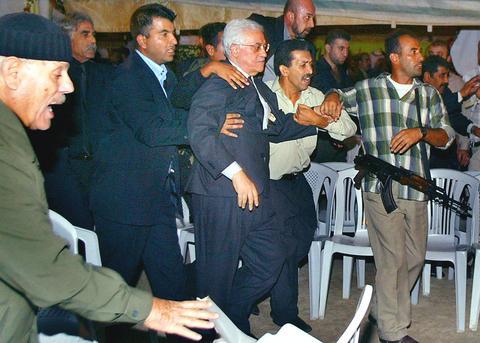 Bodyguards take away Mahmoud Abbas after gunfire erupted at the tent set up for mourners to gather in memory of the late Palestinian president Yasser Arafat in Gaza City on Sunday. Two people were killed and six injured in the attack.
PHOTO: AP
Comments will be moderated. Keep comments relevant to the article. Remarks containing abusive and obscene language, personal attacks of any kind or promotion will be removed and the user banned. Final decision will be at the discretion of the Taipei Times.