Former security advisor probed for removing files
Samuel "Sandy" Berger, national security adviser under former President Bill Clinton, is under investigation after removing classified documents from the National Archives while preparing to appear before the Sept. 11 commission, a US official said on Monday.
The official, who asked not to be named, said the Justice Department investigation was pending and could provide no other information. Another official confirmed an investigation was taking place.
Berger and one of his lawyers said he inadvertently removed copies of a classified memo and his handwritten notes on the material he reviewed, but immediately returned them when he was told by the Archives the documents were missing.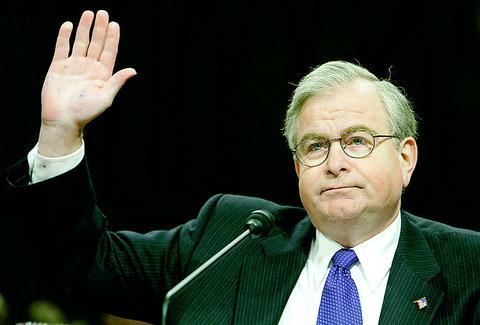 Former National Security Advisor Sandy Berger is sworn in at the bipartisan Sept. commission on Capitol Hill is this file photo from March of this year. Berger is the focus of a criminal investigation after admitting he removed highly classified terrorism documents from a secure reading room.
PHOTO: AFP
"I immediately returned everything I had, except for a few documents that apparently I had accidentally discarded," Berger said in a statement.
"I deeply regret the sloppiness involved, but had no intention of withholding documents from the commission, and to the contrary, to my knowledge every document requested by the commission from the Clinton administration was produced," Berger said.
One or more copies of a memo, an analysis of the Clinton administration's anti-terror efforts around the millennium, are still missing. The FBI, executing a warrant, searched Berger's office and home safe earlier this year.
Lanny Breuer, Berger's attor-ney, said: "I've been told that the investigation is ongoing; that the government is appreciative that we've been fully cooperative."
Breuer said the probe began several months ago and Berger has not been charged with anything.
"We've been trying to work with the government on this. And you know, we've been told ... he's only a subject [of the investigation] no more, they're just looking into this thing. And then today, a couple of days before the 9/11 commission report comes out, the whole thing gets leaked," Breuer said.
Comments will be moderated. Keep comments relevant to the article. Remarks containing abusive and obscene language, personal attacks of any kind or promotion will be removed and the user banned. Final decision will be at the discretion of the Taipei Times.