Militants hit Baghdad, free Turks
IRAQ TENSION Militants fired rockets from their homemade launcher in Baghdad as two Turkish hostages walked free after their firm agreed to leave
Insurgents fired rockets yesterday in central Baghdad, hitting at least one hotel used by Westerners but setting their own van on fire, police and witnesses said. One man was wounded, hospital officials said.
The van, apparently used as a platform to fire the rockets, burned just off Firdous Square, where the statue of former Iraqi president Saddam Hussein was hauled down on April 9 last year. Clouds of black smoke billowed over a blue-domed mosque on the square.
One rocket struck the Sheraton Hotel on the opposite side of Firdous Square from the mosque but caused only minor damage. Another veered northward and exploded near the Baghdad Hotel, used by Western security contractors.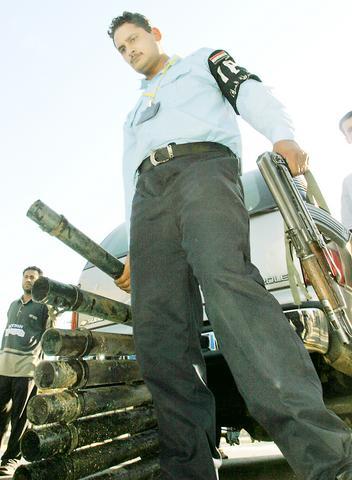 An Iraqi police officer carries away an improvised rocket launcher after finding it inside a vehicle following a series of attacks in Baghdad yesterday.
PHOTO: REUTERS
"This is the sixth time that the Sheraton Hotel has been hit since August," said Hussein Hadi, the night shift manager. "They think we have American troops here, [but] it's a civilian hotel. We have companies who have come to help reconstruct Iraq."
A US soldier at the scene said assailants fired rockets from a homemade launcher in the back of the van. Some of the rockets caught fire before they could be launched, he said, setting the van ablaze.
"After the incident, the car exploded," an Iraqi police captain said.
News footage showed apparent improvised multiple rocket launchers in the wreckage of the van.
A bystander, Ahmed Khayar Abbas, said that at about 7:30am, a minibus approached Firdous Square.
"A group of people got off and left. Then it exploded," he said.
Earlier, insurgents using rockets attacked the area near Marjam Hotel, which is also used by Westerners. One rocket struck a statue in nearby Wathik Square and another landed near the Indonesian Embassy, but did not explode, police said.
HOSTAGES
Insurgents also released two Turkish hostages yesterday, only days after their employer agreed stop doing business with the US military in Iraq, authorities said.
The hostage takers, who identified themselves as the Mujahadeen Brigade, freed the men after their employer, Kayteks, issued a statement promising to leave Iraq in hopes of winning their freedom.
"They have been released," said a Turkish official in Baghdad. "They are on the way to their company in Iraq."
The two hostages -- Soner Sercali, an air conditioning repairman, and his co-worker Murat Kizil -- were reported missing on June 1.
In a video aired by alJazeera television, the two men were shown kneeling before three masked insurgents. One of the gunmen read a statement saying the men were being released after having promised not to work with coalition forces again.
The Turkish Embassy official said no ransom was paid.
A US Marine, Corporal Wassef Ali Hassoun, has also been abducted. The military on Tuesday changed his status from "missing" to "captured."
WARHEADS
Meanwhile, warheads believed to contain the deadly nerve agent cyclosarin which were found by Polish troops in south-central Iraq date back to Saddam's war against Iran in the 1980s, the Polish-led multinational force said yesterday.
"Beyond any doubt, the warheads date back to 1980-88 and were used against the Kurds and in the Iraqi-Iranian war,'' the statement from the Polish command said.
Polish troops recovered 17 rockets for a Soviet-era launcher and two mortar rounds filled with chemical substances late last month, the statement said.
Tests performed by experts in the US and Iraq showed at least two contained cyclosarin, the Polish Defense Ministry said on Thursday.
The munitions were found in a bunker in the Polish sector.
PRISONER ABUSE
The New York Times said yesterday that a report by a US Army general into prisoner abuse by US troops in Iraq and Afghanistan says bad training, organization and policy on military detention are to blame.
The report by Lieutenant General Paul Mikolashek, which is expected to be released in the next couple of weeks, said inadequate training for military jailers and interrogators, poor leadership, overcrowded cells and poor medical care for the prisoners also contributed to the abuse and torture.
However, the report found no systemic abuse at US-run prisons in Iraq and Afghanistan and will probably not assign any blame to senior US officers in Iraq, defense officials familiar with the report told the daily.
The report is based on a four-month review by a team of military specialists.
"It's going to be a tough report," a defense official said. "It will show that these various problems helped to create and contribute to an environment that left room for human error and possibly misconduct by soldiers."
Comments will be moderated. Keep comments relevant to the article. Remarks containing abusive and obscene language, personal attacks of any kind or promotion will be removed and the user banned. Final decision will be at the discretion of the Taipei Times.