Blair, Qaddafi agree on fighting terror
HISTORIC The British Prime Minister's visit with Libyan leader Muammar Qaddafi on Thursday sealed the `rogue' country's return to the international community
Britain's Prime Minister Tony Blair sealed Libya's return to the world community with a historic handshake with Muammar Qaddafi on Thursday and an agreement to fight al-Qaeda together.
After more than an hour of talks, the UK prime minister said Libya's rejection of banned weapons and rapprochement with the West could act as a template for other Arab nations to turn their back on Islamic extremism.
"We are showing by our engagement with Libya today that it is possible for countries in the Arab world to work with the United States and the UK to defeat the common enemy of extremist fanatical terrorism driven by al-Qaeda," he said.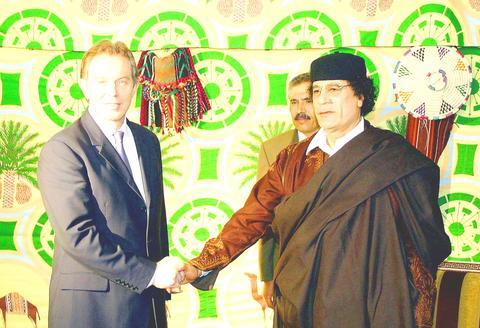 British Prime Minister Tony Blair, left, shakes hands with Libyan leader Muammar Qaddafi during their meeting in a tent outside Tripoli on Thursday.
PHOTO: EPA
"It is a very, very important signal for the whole of the Arab world."
On the first visit to Libya by a British leader since 1943, Blair was whisked to a ceremonial tent outside Tripoli to meet Qaddafi, once condemned by former US president Ronald Reagan as the "mad dog of the Middle East."
There, the pair symbolically shook hands for the cameras before vowing to work together to oppose militant Islamism.
"You are looking good, you are still young," Qaddafi told Blair, 50, speaking in English.
Blair said Qaddafi recognized "a common cause with us in the fight against al-Qaeda, extremism and terrorism, which threatens not just the Western world but the Arab world also."
Tripoli announced last December it would abandon efforts to acquire chemical, biological and nuclear weapons in a bid to further mend ties with the West after agreeing to pay damages for a 1988 airliner bombing over Lockerbie, Scotland.
A Libyan secret agent was jailed in January 2001 for life for the bombing, which killed 270 people.
Blair pledged not to forget the pain caused by the bombing but said Libya should be welcomed back into the global fold.
Libya has also agreed to compensation for victims of a 1989 French airliner bombing over Africa, which killed 170 people.
Many relatives of the Lockerbie victims have said they support the diplomatic milestone but in the US on Thursday reaction ranged from cautious optimism to revulsion.
"Obviously I have mixed feelings given that Qaddafi was responsible for the murder of my son," said Jack Schultz of Belgrade Lakes, Maine, whose son, Thomas, died in the bombing of Pan Am Flight 103 over Lockerbie.
"I can't forgive anybody for that, but I'm ready to accept that the world is probably a better off place for the United States and Britain to come to terms with Libya," he said.
But Daniel Cohen of Cape May Court House, New Jersey, whose 20-year-old daughter Theodora was killed in the bombing, called Blair's initiative, "obscene."
"Blair came from a ceremony in Madrid, a memorial service to the victims of the second largest terrorist attack in Europe and then hopped on a plane and went to Tripoli to embrace the architect of the largest terrorist attack in Europe," Cohen said. "I think his action is obscene."
Gains to British business from the diplomatic thaw were notched up even before Blair arrived. Oil giant Royal Dutch/Shell won a US$200 million gas exploration deal with Libya.
Blair also announced defense contractor BAE Systems would clinch a major deal shortly and a trade mission would visit Tripoli next month.
Comments will be moderated. Keep comments relevant to the article. Remarks containing abusive and obscene language, personal attacks of any kind or promotion will be removed and the user banned. Final decision will be at the discretion of the Taipei Times.