Hutu rebel leader surrenders, vows to end armed stuggle
A top Hutu rebel who fought the Rwandan government for years from Congo jungle bases surrendered and flew home to a cordial welcome on Saturday in a surprise move that could help stabilize the volatile Great Lakes region.
"We have decided to put down guns. War is not the best solution," Paul Rwarakabije, military commander of the Kinshasa-based Democratic Liberation Forces of Rwanda (FDLR), said on arrival at Kigali airport with several rebel colleagues.
"We have now decided that we can use peaceful means to solve any outstanding issues," he added, after Rwandan army officers greeted him with smiles and hugs.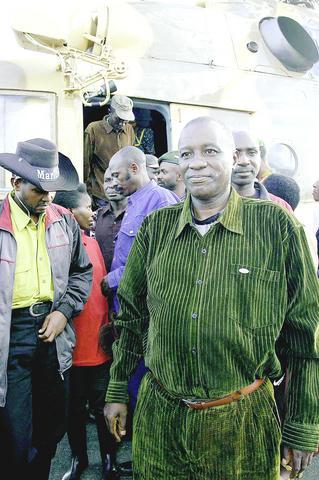 General Paul Rwarakabije, right, overall commander of the Kinshasa-based Democratic Liberation Forces of Rwanda, arrives at the Kigali airport on Saturday.
PHOTO: AFP
As Rwarakabije was served soft drinks in a VIP lounge, Rwanda army chief of staff Major General James Kaberebe told reporters Rwanda would now try to secure the return of his fighters "in the shortest time possible" from bases in neighboring Democratic Republic of the Congo (DRC).
"This is a very important moment for Rwanda," said Kaberebe. "This is an initiative between the government of Rwanda and him alone. This does not involve the UN or the Kinshasa government."
"The people we have been fighting with have made a decisive decision to come back in peace and abandon fighting," he said.
No immediate indication was given of any negotiated terms for Rwarakabije's return.
The largely Rwandan Hutu FDLR is estimated by analysts to have between 15,000 and 20,000 guerrillas fighting to topple the Tutsi-led Rwandan government from jungle bases in the east of the DRC.
Many FDLR fighters are Hutus implicated in the 1994 Rwandan genocide, although Rwarakabije, a former Rwandan army officer, has not been accused of a role in the orchestrated slaughter by Hutu extremists of 800,000 minority Tutsis and moderate Hutus.
Comments will be moderated. Keep comments relevant to the article. Remarks containing abusive and obscene language, personal attacks of any kind or promotion will be removed and the user banned. Final decision will be at the discretion of the Taipei Times.