Iraq attacks claim more US victims
WAR IS OVER? The number of American deaths since combat ended is now 103 ... and a tape from Osama bin Laden says he wants to take the fight to American soil
Two US soldiers and an Iraqi have fallen victim to continued violence in the occupied country, as a letter purportedly written by former president Saddam Hussein called for jihad, or holy war, against "the hated invaders."
US President George W. Bush, meanwhile, said a new audiotape purportedly made by Osama bin Laden meant that "the war on terror goes on."
Coalition officials announced that two soldiers of the US Fourth Infantry Division were killed and one wounded in an attack late Saturday near the northern oil center of Kirkuk, 260km north of Baghdad.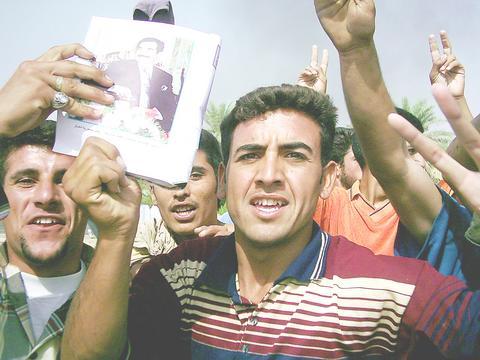 Iraqi protesters flash victory signs while waving a picture of ousted President Saddam Hussein in the flashpoint Iraqi city of Fallujah, 50km west of Baghdad, yesterday. American forces twice came under attack in Fallujah on Sunday.
PHOTO: AFP
The two deaths confirmed by the coalition bring to 103 the number of Americans who have died in combat since Bush declared an end to major combat on May 1.
deadly strikes
And in the city of Fallujah, an Iraqi was killed and another wounded when US soldiers opened fire after they came under attack while removing a military vehicle hit earlier by a rocket-propelled grenade, witnesses and hospital sources said.
The US vehicle had exploded when assailants attacked a convoy apparently transporting weapons and ammunition in the town, 50km west of Baghdad, witnesses said.
US troops left immediately after the attack but returned a little later and then opened fire, wounding two Iraqis, the witnesses said.
A local hospital doctor, Aiman Abdul Qader, said five Iraqis were wounded in the first incident, three of them seriously.
Following the attack, a number of people in Fallujah chanted slogans in support of ousted strongman Saddam, toppled by US forces six months ago, and al-Qaeda, the Islamist militant group led by bin Laden.
At least eight explosions later were heard from the US military base in Fallujah. And an anti-tank rocket was fired at an American convoy in the town of Khaldiyah, witnesses said.
"This is a first reaction after bin Laden's declaration," said witness Ahmed Suheil, 40.
In two "messages" to the Iraqi and American people aired by Qatar's Al-Jazeera television Saturday, a recorded voice claiming to be that of the al-Qaeda leader threatened to send suicide bombers to the US and to attack any forces joining the coalition in Iraq.
Bush, in Bangkok for a state visit and an Asian economic forum, said the recording reinforced his resolve for Washington's "war on terror."
"I think that the bin Laden tape should say to everybody, the war on terror goes on; that there's still a danger for free nations and that free nations need to work together more than ever to share intelligence, cut off money, and bring these potential killers, or killers to justice," he said.
SADDAM'S SPECTER
But another specter emerged, as a letter purportedly from Saddam urged tribal leaders to launch holy war against "the hated invaders" and those who cooperate with them.
"I urge you to help your brothers in the resistance. Call the sons of your tribes to the jihad because the day of salvation is near," said the message, obtained by reporters.
"Your strikes, which they did not expect, hurt them. Their demons made them believe Iraq would be just a mouthful. To the contrary, it has been poison for them."
The letter, dated Oct. 9 and bearing Saddam's signature, was distributed Oct. 13 to about 20 people in Saddam's stronghold of Tikrit -- a flashpoint of anti-US violence -- according to people who called themselves "men of Saddam Hussein."
But as violence raged in the Sunni Triangle, a member of the Iraqi Governing Council said it would be possible to draft a constitution and hold elections in the country before the end of next year.
"We can't commit to a precise calendar, but we think it's possible by the end of 2004 at the latest to finish our work: drafting a constitution, conducting a census and putting in an elected government," Mohsen Abdel Hamid told reporters during a visit to the United Arab Emirates.
On Thursday, the UN Security Council adopted a new resolution, which gives the council until Dec. 15 to set a timetable for carrying out the steps.
Comments will be moderated. Keep comments relevant to the article. Remarks containing abusive and obscene language, personal attacks of any kind or promotion will be removed and the user banned. Final decision will be at the discretion of the Taipei Times.