Roh in biggest gamble of his life
REFERENDUM The South Korean president's call for a no-confidence motion against himself was condemned by both critics and supporters alike as `brinkmanship'
As if uncertainty about the economy and North Korea's nuclear arms ambitions were not enough, President Roh Moo-hyun has taken South Korea into uncharted territory with his call for a referendum on his rule.
Roh told parliament yesterday he wanted to renew his mandate after a series of scandals by holding a referendum in December -- just a year after he was elected for a single five-year term.
The 57-year-old former lawyer said that if he lost, he would step down in February and hold a presidential election in April.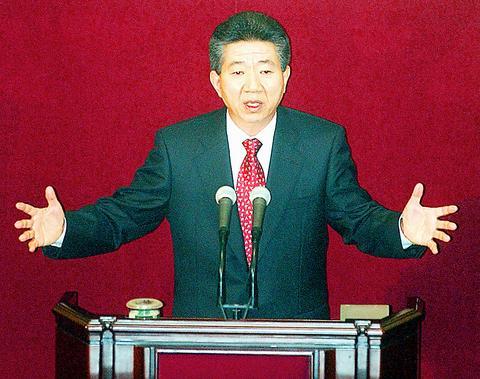 South Korean President Roh Moo-hyun speaks at the National Assembly in Seoul yesterday as he told lawmakers that he wanted a referendum on his government.
PHOTO: AP
Although Roh insisted his decision was not imprudent, the drastic move baffled many of South Korea's 48 million people and united admirers and critics in condemnation of his "brinkmanship" -- a term normally associated with the mercurial North Koreans.
Overshadowing the quest for constitutional guidance on what to do when a leader in effect launches a no-confidence motion against himself was the search for a method behind the apparent madness.
Roh's decision to put his future in the hands of voters -- unveiled last Friday in an unscripted news conference -- was triggered by prosecution allegations that a close aide of 20 years was involved in a widening political funding scandal.
But yesterday he said he wanted the poll to restore "moral standards among the country's leaders", adding that he would "abandon the presidency with pleasure" if that brought reform.
If there was some admiration in Seoul for his candor and detachment, there was far more criticism that he had forgotten the gravity of his job in resorting to populism.
Roh is a self-educated lawyer from a farming family who could not afford college and took low-paying odd jobs in between self-study, finally passing the bar examination in 1975.
He spent the early 1980s defending student and labor activists, joining the pro-democracy movement himself in 1987.
Roh has been an outsider from the time he led a student boycott in 1960 against mandatory essays prai-sing Seoul's autocratic first president. Teachers said that he was stubborn, with a special talent for forcefully expressing his opinion.
A decade ago, he quit his mentor's party over a merger that enabled that man to become president. Last month, Roh quit his ruling party, decimating his already weak support in parliament.
"If we look at his political history, every time he was in a critical moment he would either charge ahead or use risky strategies with his political career at stake," said the JoongAng Ilbo newspaper, a staunch critic of Roh.
"Every radical step that he has taken has succeeded," the daily acknowledged. "If the recent request for a vote of public confidence came from the same chain of thinking in the past, he is overlooking the weight of his office," it said.
In contrast to the negative reaction among the establishment to his gambit, public opinion polls have indicated that voters would return Roh by a margin of about 10 percent -- far greater than the two percent cushion by which he won office last year.
Comments will be moderated. Keep comments relevant to the article. Remarks containing abusive and obscene language, personal attacks of any kind or promotion will be removed and the user banned. Final decision will be at the discretion of the Taipei Times.