2020 Elections: Han a danger to diplomacy, DPP says
POWER OF WORDS: DPP legislators said Taiwan needs a competent president, as opposed to Han, who has offended many people by saying 'outrageous' things
Listing the disparaging and insulting comments Kaohsiung Mayor Han Kuo-yu (韓國瑜) has made about other countries, Democratic Progressive Party (DPP) legislators said that the Chinese Nationalist Party's (KMT) presidential candidate would be a disaster for international diplomacy if elected.
While campaigning, Han has made outlandish and derogatory remarks, which have offended people from other nations, DPP legislative caucus director-general Kuan Bi-ling (管碧玲) told a news conference.
"If a person such as Han was representing our nation, how would the world perceive Taiwan?" she asked.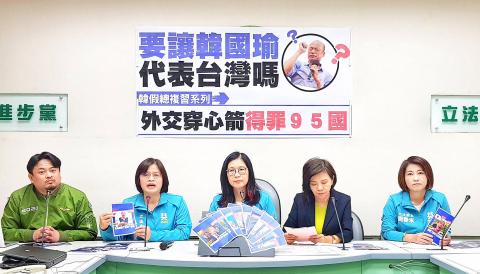 Democratic Progressive Party Legislator Kuan Bi-ling, center, and colleagues hold a news conference at the Legislative Yuan yesterday to criticize Chinese Nationalist Party (KMT) presidential candidate Han Kuo-yu 's diplomatic policy.
Photo courtesy of Kuan Bi-ling
After compiling Han's public comments on foreigners and international affairs, "we found he has insulted Southeast Asians and many others, offending 95 countries in total," she said.
Among the examples Kuan cited were remarks by Han on Aug. 29 last year.
Talking about Taiwan's young people and migrant workers, Han said: "All the phoenixes have flown away, while a bunch of chickens are moving in."
The remark was widely criticized for comparing migrant workers to chickens.
Han on March 6 said he worried that hiring educated employees from the Philippines "would cause a psychological shock for Taiwanese, because [they might wonder]: How has our 'Maria' become a teacher?"
The term "Maria" is a slur widely used in Taiwan to refer to migrant workers, especially those working as a caregivers.
At a KMT banquet on Sept. 15, Han spoke of a friend selling orchids in Africa, and said he asked him: "Are you sure that black people in Africa would need orchids in their homes?"
Han insulted all 57 African countries with the discriminatory remark, Kuan said.
When meeting Japanese academics on Sept. 6, Han told the media that he had waited for them for 25 minutes, but it was Han's office that changed the time and venue, and did not properly pass on the message, which caused the Japanese group's late arrival, Kuan said.
DPP legislator-at-large candidate Hung Shen-han (洪申翰) said that during Han's visit to Hong Kong on March 22, he was quoted as saying: "There is a happy country, Bhutan — I think it is in the Alps. The people there are simple and rather dumb, as long as they have bread to eat, they believe they are the world's happiest people."
During the televised presidential debate on Dec. 29, Han said that the EU had approved categorizing nuclear energy as green energy, Hung said, adding that Han's remark was false, had distorted EU policies and would offended European countries.
The Constitution grants the president the important duties of taking charge of international affairs, national defense and cross-strait relations, Kuan said.
"Voters must choose a competent person with good leadership and management skills for our president," she said. "Han has been talking nonsense and saying outrageous things, and continues to offend people from other countries."
In response, Han's campaign office spokeswoman Anne Wang (王淺秋) said that the DPP's news conference had "little substance."
Additional reporting by Ann Maxon
Comments will be moderated. Keep comments relevant to the article. Remarks containing abusive and obscene language, personal attacks of any kind or promotion will be removed and the user banned. Final decision will be at the discretion of the Taipei Times.