Flight recorders from helicopter to be sent to US
The air force yesterday said it would send two flight data recorders retrieved from the wreckage of a military helicopter to the US for analysis to help determine why the aircraft crashed.
The UH-60M Black Hawk helicopter carrying military personnel to Dongaoling Base (東澳嶺) in Yilan County went down in the mountains of New Taipei City's Wulai District (烏來) on Thursday with 13 people on board. Eight died in the crash, including Chief of the General Staff General Shen Yi-ming (沈一鳴).
The data recorders need to be sent to Sikorsky Aircraft, the helicopter's US-based manufacturer, for a comprehensive analysis, the air force said.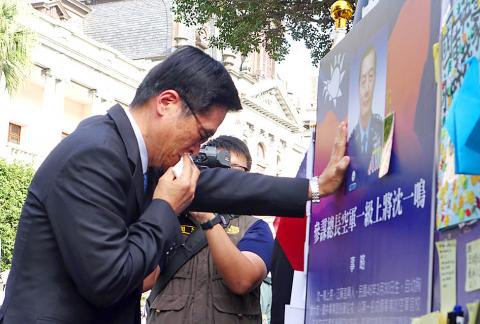 Minister of National Defense Yen De-fa bows yesterday when attending a memorial service held at the Taipei Guest House for late chief of the general staff general Shen Yi-ming and seven other military officials who died in a helicopter crash last week.
Photo: Wang Yi-sung, Taipei Times
An air force official on Sunday said that the military was not planning to send the data recorders to the US unless it encountered difficulties in retrieving the data.
However, the air force yesterday said that there are certain blocks of data that only the manufacturer can decipher.
The two recorders — one flight data recorder and one cockpit voice recorder — were recovered on Friday morning and sent to the Transportation Safety Board for an initial analysis.
The board, an independent government agency responsible for major transportation accidents, completed its analysis of the data contained in the recorders on Saturday and informed the air force of its findings.
The air force did not specify when it would hand over the recorders to Sikorsky, saying only that it has asked for help from the American Institute in Taiwan to coordinate communications with the company.
The information contained in the data recorders is only part of the evidence being gathered by investigators to determine the cause of the accident, the air force said.
The authorities also have to take weather conditions and maintenance records, among other factors, into account, before coming up with a full report explaining the cause of the crash, it said.
Comments will be moderated. Keep comments relevant to the article. Remarks containing abusive and obscene language, personal attacks of any kind or promotion will be removed and the user banned. Final decision will be at the discretion of the Taipei Times.