FEATURE: Biography tells untold story of 'Taiwan's first pilot'
Hsieh Tung-han (謝東漢), the son of Hsieh Wen-ta (謝文達) — known as "Taiwan's first pilot" — has written a biography about the life of his father.
Born in Taichung in 1901 during the Japanese colonial era, Hsieh Wen-ta was a respected pilot who was rejected by the Japanese government for supporting Taiwan's democracy movement.
He later joined the National Revolutionary Army in China, but was viewed by the Blue Shirts Society — a secret faction within the Chinese Nationalist Party (KMT) — as a traitor when the Second Sino-Japanese War erupted.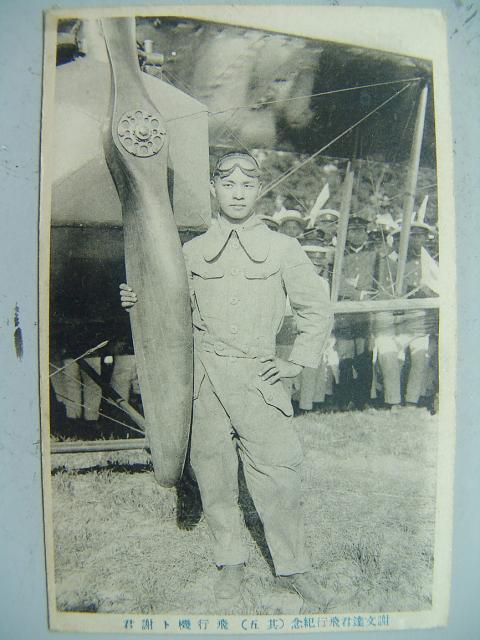 Hsieh Wen-ta, known as "Taiwan's first pilot," stands next to an aircraft in an undated photograph.
Photo courtesy of Hsieh Tung-han
"The title of the biography, Wandering Between Two Motherlands (徘徊在兩個祖國), can be interpreted in different ways," Hsieh Tung-han said. "The 'two motherlands' can mean China and Japan or it can be something else."
Due to the sensitivity of some of the material in the book, it was not published until 2016.
It served as source material for the documentary Searching For 1920 (尋找1920), directed by Hsu Ming-chin (許明淳) and produced by Khan Lee (李崗).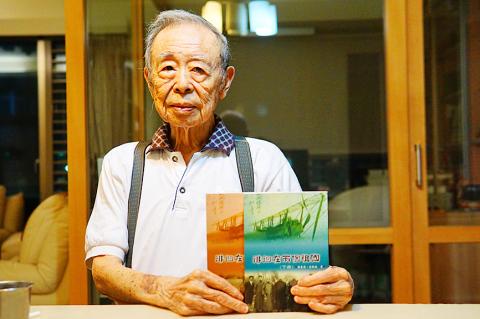 Hsieh Tung-han holds copies of a biography about the life of his father and "Taiwan's first pilot" Hsieh Wen-ta at, titled Wandering Between Two Motherlands, on Oct. 10 in Taipei.
Photo: Ho Tsung-han, Taipei Times
The film, which premiered in Taipei in May, follows the stories of Hsieh Wen-ta and An Chang-nam, first Korean pilot, as they pursue their dreams of flying.
Taiwan and the then-unified Korea were Japanese colonies at the time.
Hsieh Wen-ta and An trained in Japan together, and each participated in their hometowns' independence movements.
His father's first flight in Taiwan was a huge encouragement for Taiwanese, who were viewed as second-class citizens at the time, Hsieh Tung-han said.
Then-governor-general Den Kenjiro was interested in molding his father into a role model for Taiwanese youth and hired him as a consultant for the aviation police, Hsieh Tung-han said.
He formed a group of supporters who raised funds to purchase an airplane, the Taipei, for his father, Hsieh Tung-han said.
Hsieh Wen-ta later joined the Taiwan Cultural Association. When democracy pioneer Chiang Wei-shui (蔣渭水) traveled to Tokyo to petition for a second time for the establishment of a representative assembly in Taiwan, Hsieh Wen-ta flew the Taipei over Tokyo and dropped hundreds of thousands of leaflets criticizing Japan's rule over Taiwan, and calling for the establishment of a representative assembly and for the right of Taiwanese to participate in politics.
The act angered Japanese authorities.
Kenjiro asked Hsieh Wen-ta why he was participating in the Taiwan Assembly Alliance with Chiang when he had been so good to him, and whether he intended to divide the country, Hsieh Tung-han said.
The questions forced Hsieh Wen-ta to retire from the Japanese air force, Hsieh Tung-han said, adding that he eventually joined the National Revolutionary Army and led the air corps of the second army under Feng Yuxiang (馮玉祥).
Hsieh Wen-ta fought in the Northern Expedition and the Central Plains War, among other military campaigns, Hsieh Tung-han said.
However, he was hit during a reconnaissance mission and crashed near Miluo River, sustaining serious injuries to his head and waist. From then on, he could not fly for more than three hours at a time.
After the Mukden and the January 28 incidents, fighting erupted among the political factions in Nanjing, and anti-Japanese sentiment rose.
As people were trying to catch traitors and fight the Japanese, those born in Taiwan — some of whom had Japanese passports or residency and others who had left Taiwan for political reasons — were viewed as Japanese.
Hsieh Wen-ta was reported on, and a year before the Second Sino-Japanese War erupted, he was forced to leave the air force and started a business in Shanghai.
The Blue Shirts only had detention centers and no prisons, Hsieh Tung-han said, adding that once a person was caught, they were in a "dead-end."
Before the war, there were about 300 Taiwanese in Nanjing, Hsieh Tung-han said, adding that about 40 went missing from 1935 to 1937.
Hsieh Tung-han said he was born in Nanjing in 1930.
Near their family home on Dongchang Street was a defunct factory with a sign that read "Haui River Water Administration Commission" and guards at the door.
Every time after a truck full of people arrived at the factory, black smoke accompanied by the smell of burned pig scalps would waft later in the night, he said.
Some soldiers at the factory said that iron tables and chairs were set up in the building to electrocute prisoners at six o'clock, after which their bodies would be carried to another room for cremation, he said.
"Way before the White Terror era, the KMT was already capable of horrible things," he said.
Hsieh Tung-han said his father was appalled to witness a Chinese fighter being shot down by a Japanese airplane above the Suzhou River during the Battle of Shanghai.
My grandfather said that "there is no need to mourn, because China has nothing to do with us anymore," but the pilot of the crashed jet could have been my father's student or colleague, he said.
My dad could hide from the Blue Shirts, but not from the Japanese, he said.
"On a night in 1938, my father was found by the Kenpeitai — the military police arm of the Imperial Japanese Army — with navy captain Hikojiro Suga asking my father if he would spy on the Shanghai City mayor, who was a Chinese national, in the capacity of secretary-general in the city government," he said.
"Sensing my father's unwillingness, Suga showed him a roster compiled by the Blue Shirts, which included names to be executed under the charge of treason, and my father's name was on it," he added.
His father was shocked to see his name on the list, but realized he would not be better off even if he denied the Japanese request, as it would only be a matter of time for him to be arrested and killed by the Chinese government, Hsieh Tung-han said.
As a result, his father assumed several posts after Suga pulled a few strings, including serving as the secretary of the Beiping Police Department (now the Beijing Public Security Bureau), China Airlines Shanghai Branch vice president and as an interpreter representing Japan in the negotiations between Japan and Wang Jingwei (汪精衛) — who later became the head of the Japanese collaborationist government in Nanjing, he said.
"Despite these jobs, my father maintained an adamant stance on his refusal to be the Civil Aviation Administrator under Wang's government," Hsieh Tung-han said.
One day during a walk in Nanjing — which was occupied by Japan during the war — he saw two young Japanese soldiers beating a Chinese child, who kneeled and pleaded for mercy, but the Japanese who did not understand him continued to beat him, Hsieh Tung-han said.
"That scene created a sense of the nation's impending doom in me," Hsieh Tung-han said, adding that "five-starred red flags and communist temples in Taiwan [today] make me feel the same way, too."
"It took me about seven years to finish the book, and my wife has been the most supportive person during this time," he said, adding that she has told him that sales volume does not matter, as what truly matters is letting their descendants know about his father's life.
"I put a copy of the book next to my wife's body when she was cremated, silently hoping that she could take it to our ancestors in another world," he said.
Comments will be moderated. Keep comments relevant to the article. Remarks containing abusive and obscene language, personal attacks of any kind or promotion will be removed and the user banned. Final decision will be at the discretion of the Taipei Times.