COA warns fruit farmers against stink bugs
PARASITIC SOLUTION: As use of insecticides should be halted when plants begin to blossom, the council is to deploy 16.6 million wasps at lychee and longan farms
The Council of Agriculture (COA) yesterday alerted farmers to an increase in the breeding activity of lychee stink bugs as the weather turns warmer, advising them to use biological methods to combat the insects when fruit trees begin to blossom.
Lychee stink bugs (Tessaratoma papillosa), which are often found on lychee, longan, Taiwan golden-rain and Chinese soapberry trees, are considered pests by farmers, as they feed on sprouts, the council said.
As they last year caused serious damage to domestic lychee and longan production, the council has planned pre-emptive measures after meeting with local officials and farmers, COA Chief Secretary Chang Chih-sheng (張致盛) told a news conference in Taipei, but added that statistics for such agricultural losses were not available yet.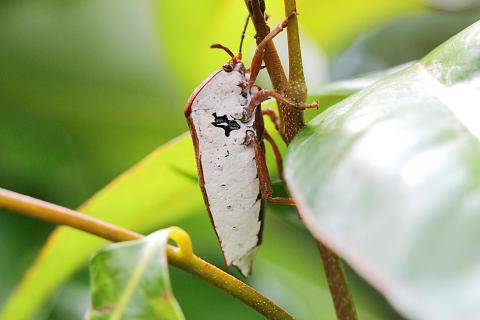 A "litchi stinkbug" is pictured in an undated photograph. The pest can cause extensive damage to agricultural products.
Photo courtesy of the Kaohsiung District Agricultural Research and Extension Station
Domestic fields growing lychee and longan plants amount to 20,000 hectares, an important crop in central and southern regions, he said.
The stink bugs often hide in winter and start breeding when spring approaches, so it is crucial to restrict their breeding earlier, he added.
Farmers should immediately remove leaves on which stink bug eggs are found, Chang said.
The council last month started applying chemical solutions on fruit trees in key production regions, he said.
However, the use of insecticides should be stopped when plants begin to blossom — the time of which varies depending on region — and the council would then utilize one of the stink bug's natural enemies — Anastatus japonicus, a species of egg parasite wasp — to restrict their breeding, he added.
The council last year released 4.05 million wasps and this year plans to deploy 16.6 million wasps at lychee and longan farms in Kaohsiung, Taichung, Tainan and Keelung, as well as Yilan, Miaoli, Changhua, Nantou and Kinmen counties, said Lu Hsiu-ying (呂秀英), director of the COA's Miaoli District Agricultural Research and Extension Station, which last year employed uncrewed aerial vehicles to release the wasps.
Originally an alien species, lychee stink bugs were first spotted in outlying Kinmen about 20 years ago and later spread to Kaohsiung and other areas, COA Bureau of Animal and Plant Health Inspection and Quarantine Deputy Director-General Chou Hui-chuan (鄒慧娟) said.
Comments will be moderated. Keep comments relevant to the article. Remarks containing abusive and obscene language, personal attacks of any kind or promotion will be removed and the user banned. Final decision will be at the discretion of the Taipei Times.