China Airlines Strike: Groups condemn pilots' union, demand compensation
The Travel Agent Association and other groups yesterday accused the Taoyuan Union of Pilots for disrupting the travel plans of 15,000 travelers with a strike, and demanded compensation from China Airlines.
The union's decision to launch the strike during the Lunar New Year holiday and to announce it only six hours in advance was "very mean," the association said in a statement.
Meanwhile, China Airline's lack of clear and effective mechanisms to handle such a crisis has prevented it from protecting consumers' rights, it added.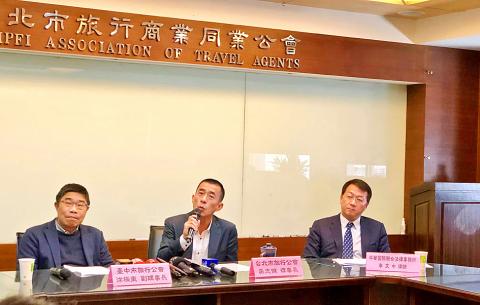 Representatives of several associations of travel agents express the hope that the China Airlines strike can be resolved quickly while attending a news conference held by the Taipei Association of Travel Agents in Taipei yesterday.
Photo: Chuang Shih-hsien, Taipei Times
Since the strike began on Friday last week, China Airlines has canceled more than 100 flights, mostly long-haul flights to Europe, the US and other destinations.
Many travel agencies have already paid for accommodation and transportation for the canceled trips and now also have to cover additional expenses caused by their customers' extended stays abroad after their return flights were canceled, the association said.
"This remains a pressing issue for many travel agencies," it said.
Travel agencies respect the union's right to go on strike, but from their clients' point of view they must condemn the union's timing and lack of advance notice, Taipei Association of Travel Agents chairman Wu Chih-chien (吳志健) said at a joint news conference with travel agency associations from Taichung, Tainan and Kaohsiung.
Although China Airlines has announced plans to compensate passengers for their airfare, it has failed to take into consideration travelers' expenses for accommodation and transportation while stranded, he said.
While the Tourism Bureau has said that travel agencies that bear such expenses for tour groups can ask customers to reimburse them for accommodation and transportation costs even after a trip is canceled due to the strike, they do not think that would be fair, he added.
For every canceled hotel stay and transportation plan, a travel agency loses thousands of New Taiwan dollars, Wu said, urging the airline to compensate them.
The government should require unions in the transportation industry to issue advance notice of a strike and consider introducing strike insurance to better protect travelers' rights, he said.
It should also intervene in an effective manner to ensure that the strike ends soon, he added.
Comments will be moderated. Keep comments relevant to the article. Remarks containing abusive and obscene language, personal attacks of any kind or promotion will be removed and the user banned. Final decision will be at the discretion of the Taipei Times.