Alishan signs sister deal with fellow Slovakian railway
Alishan Forest Railway on Wednesday forged a sister railway relationship with Slovakia's Cierny Hron Forest Railway ahead of its 106th anniversary on Dec. 25.
Ales Bilek, head of the Slovakian railway, and Forestry Bureau Director-General Lin Hwa-ching (林華慶) signed a memorandum of understanding (MOU) at a ceremony in Chiayi County.
The MOU is the third signed between the two countries this year, Martin Podstavek, Representative of the Slovak Economic and Cultural Office, Taipei, said at the ceremony.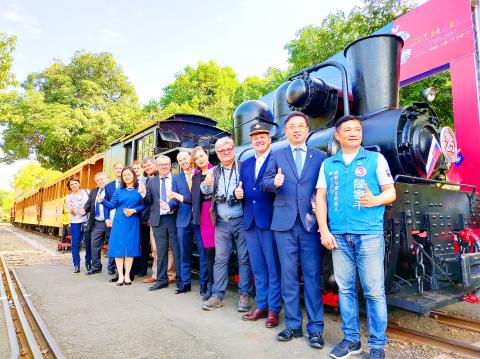 Forestry Bureau Director-General Lin Hwa-ching, second right, Ales Bilek, head of the Cierny Hron Forest Railway, third right, Slovakian representatives and Alishan Forest Railway staff give the thumbs-up sign in front of the vintage steam-powered Shay locomotive No. 25 in Chiayi County on Wednesday.
Photo: Tseng Nai-chiang, Taipei Times
To mark the agreement, Lin gave Slovakia a Franz Collection porcelain creation with a painting of the Alishan steam train on it.
The Cierny Hron Railway, which consists of 131.98km of 76cm narrow-gauge railway in the landlocked central European country, was built for logging operations, Lin said, adding that it began regular lumber transport in 1909.
Built in 1912, the Alishan Forest Railway is made up of 86km of 76.2cm narrow-gauge railway running up to the popular Alishan Forest Recreation Area, and was also used for logging, Lin said, adding that the two railways are now used for tourism.
The agreement makes the Slovakian railway Alishan railway's ninth sister railway, and Slovakia the fifth country with which it has sister ties, Alishan Forest Railway and Cultural Heritage Office head Huang Miao-hsiu (黃妙修) said.
From Jan. 1, a steam locomotive with vintage-style wooden carriages is to run from Chiayi Station to Beimen Station on the railway line once every two weeks in a bid to boost local tourism, Huang said.
Comments will be moderated. Keep comments relevant to the article. Remarks containing abusive and obscene language, personal attacks of any kind or promotion will be removed and the user banned. Final decision will be at the discretion of the Taipei Times.