Ma defends 'no opposition to unification'
Former president Ma Ying-jeou (馬英九) yesterday defended his statement that Taiwanese should not oppose unification, which he said is established by the Constitution.
Ma made the remark during a speech on cross-strait relations at Soochow University's Chengzhong Campus in Taipei after a participant asked why Ma changed his "three noes" policy that underpinned cross-strait interactions during his eight-year presidency.
The "three noes" refers to Ma's slogan of "no unification, no independence and no use of force."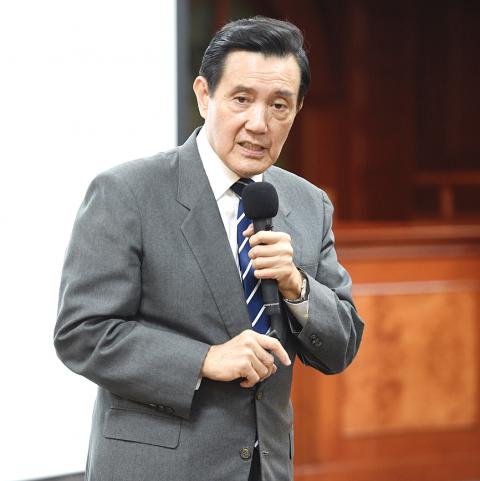 Former president Ma Ying-jeou yesterday gives a talk on cross-strait relations at Soochow University's Chengzhong Campus in Taipei.
Photo: George Tsorng, Taipei Times
He on Nov. 7 revised his stance to "no opposition to unification" in a speech marking the third anniversary of his meeting with Chinese President Xi Jinping (習近平).
"Unification is a goal stipulated in our Constitution, but there is no timetable," Ma said, adding that the process must be democratic and peaceful.
Ma said that he proposed the idea of "no opposition to unification," because this was something that might happen, depending on the conditions and timing, and that he wanted to bring the issue to the attention of Taiwanese so that they could decide their own fate amid fluctuating cross-strait ties.
Regarding the so-called "1992 consensus," Ma said that it is akin to a contract that has served as a political foundation for cross-strait ties.
"If you want to change it, it will need the consent of the other party. Otherwise it could jeopardize mutual trust across the Taiwan Strait," he said.
Ma said the "consensus" was not fabricated by former Mainland Affairs Council chairman Su Chi (蘇起), but rather proposed by the Straits Exchange Foundation under the guidance of then-president Lee Teng-hui (李登輝) in November 1992 and accepted by the Chinese Association for Relations Across the Taiwan Straits.
The "1992 consensus" — a term Su in 2006 admitted making up in 2000 — refers to a tacit understanding between the Chinese Nationalist Party (KMT) and Beijing that both sides acknowledge there is "one China," with each side having its own interpretation of what "China" means.
Beijing has never publicly endorsed the existence of the "different interpretations" element.
Ma also questioned President Tsai Ing-wen's (蔡英文) policy of maintaining the cross-strait "status quo," which Tsai said would remain unchanged, despite the Democratic Progressive Party's losses in the Nov. 24 elections.
"Which 'status quo' is she referring to? The one under my administration or that under the administration of former president Chen Shui-bian (陳水扁)?" Ma asked, adding that Chen's lacked the "1992 consensus."
Comments will be moderated. Keep comments relevant to the article. Remarks containing abusive and obscene language, personal attacks of any kind or promotion will be removed and the user banned. Final decision will be at the discretion of the Taipei Times.