Results called DPP failure, not KMT win
The results of Saturday's nine-in-one elections represented a failure of the Democratic Progressive Party (DPP), not a victory for the Chinese Nationalist Party (KMT), KMT Legislator Ko Chih-en (柯志恩) said on Sunday.
The KMT must not misread the situation and must continue to reform itself to win back votes from the DPP, Ko said.
The KMT won mayoral races in 15 counties and cities, up from six, while the DPP won only six, down from 13.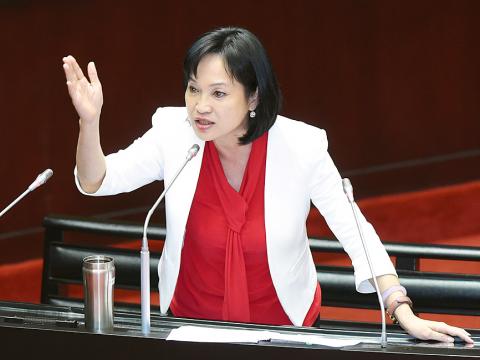 Chinese Nationalist Party (KMT) Legislator Ko Chih-en speaks at the Legislative Yuan in Taipei on Oct. 30.
Photo: Liao Chen-huei, Taipei Times
Key KMT candidates, including Kaohsiung mayor-elect Han Kuo-yu (韓國瑜) and New Taipei City mayor-elect Hou You-yi (侯友宜), are different from typical KMT politicians, Ko said, adding that the two relied on their unique personalities.
"The outcome shows that people do not like the DPP, but that does not necessarily mean they like the KMT. This is something the party must realize," she said.
KMT Legislator Wang Jin-pyng (王金平) said the biggest reason for the DPP's losses was a change in public sentiment.
All of the DPP's actions since the party took office helped the campaigns of KMT candidates, Wang said.
KMT Legislator Lin Wei-chou (林為洲) said that voters expressed their dissatisfaction with the DPP, but not necessarily their approval of the KMT.
The KMT must urgently get to work turning dissatisfied DPP supporters into KMT supporters before the 2020 presidential election, Lin said.
The KMT must reform and should learn from Han's campaign success, which would include better engagement with voters online and more emphasis on the charisma of individual candidates, he said, adding that the party could not rely on its traditional organizational strategies.
A source within the KMT who asked to remain anonymous said that there was hope that older members would soon retire.
However, the party's successes on Saturday means that older members would probably join the 2020 elections rather than retire, the source said.
The boost in morale that Han has given party members means there will likely be an explosion in the number of KMT members who want to enter the party's 2020 nomination process, the source said, adding that the party would be obligated ensure a fair competition.
Comments will be moderated. Keep comments relevant to the article. Remarks containing abusive and obscene language, personal attacks of any kind or promotion will be removed and the user banned. Final decision will be at the discretion of the Taipei Times.