2018 ELECTIONS: Raids uncover election betting in Kaohsiung
Authorities have raided two underground gambling operations in Kaohsiung where people had been betting on the outcome of tomorrow's nine-in-one elections, the Criminal Investigation Bureau said on Wednesday.
Bureau officials also said that after receiving 124 complaints about people posting fake news, circulating misinformation or making unsubstantiated accusations against candidates, prosecutors are in the process of charging 101 suspects in 85 cases.
In the first gambling case, local police and the bureau raided a building in Kaohsiung's Yancheng District (鹽埕), where 12 suspects, including the alleged leader, surnamed Su (蘇), were arrested, the bureau said.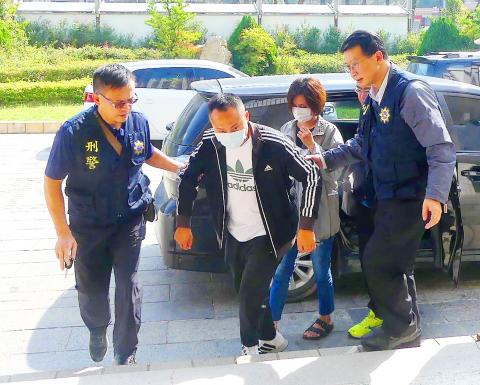 Two suspects who were arrested for alleged gambling are escorted by police in Kinmen County on Wednesday.
Photo: Wu Cheng-ting, Taipei Times
Equipment, account books and NT$6.21 million (US$201,010) in cash was seized, it said.
Su had allegedly been running an illegal gambling operation since October last year, using a Web site to take bets totalling NT$139 million, Kaohsiung prosecutor Lo Shui-lang (羅水郎) said.
"Su managed the operation with seven other investors. People mainly bet on the results of MLB games and car races in China... Then in recent months, they began offering changing odds on the Kaohsiung mayoral race," Lo said.
In the second case, the Kinmen District Prosecutors' Office collaborated with the bureau and police from several cities to bust a gambling operation based in Kaohsiung, which was allegedly led by a man surnamed Lin (林).
Five people, including Lin, were on Monday arrested during a raid in which NT$1.2 million, six cellphones, 10 bank cards, and several computers, fax machines and account books were seized.
Kinmen prosecutor Wu Chin-lung (吳錦龍) said the investigation was launched last month after they received reports about candidates buying votes and investigators found that some Kinmen County residents had been placing bets with Lin's operation, which specifically took wagers on the outcome of the Kaohsiung mayoral race.
After questioning, Lin was on Wednesday released after posting bail of NT$1 million, while the other four people were released on bail of NT$50,000.
Including the two Kaohsiung cases, the bureau said that it has busted eight illegal gambling operations involved in election betting.
Top police officials testified in the legislature in first week of this month that investigators had found that NT$9.7 billion had been wagered on the election, while some legislators alleged that some of the money had come from China.
Investigators said it is imperative to crack down on underground gambling as it could influence election results, because the people placing bets tend to push their family and friends to vote for a certain candidate so that they can win.
Comments will be moderated. Keep comments relevant to the article. Remarks containing abusive and obscene language, personal attacks of any kind or promotion will be removed and the user banned. Final decision will be at the discretion of the Taipei Times.