Mobile payments to be introduced at Taiping bridge
Mobile payments are to be accepted at the Taiping Suspension Bridge (太平雲梯) in Chaiyi County from tomorrow, with EasyCards and Apple Pay among the payment options, while tickets at the gate are to become available, in addition to online or via 7-Eleven iBon kiosks.
The Taiping Community Industry Cooperative yesterday took over management of the bridge, which was installed by the Alishan National Scenic Area Administration.
According to an initial five-year agreement, the cooperative is to manage the bridge, the Taiping Visitor Center and a nearby parking lot and tea house, for a rent of NT$6 million (US$194,012) per year.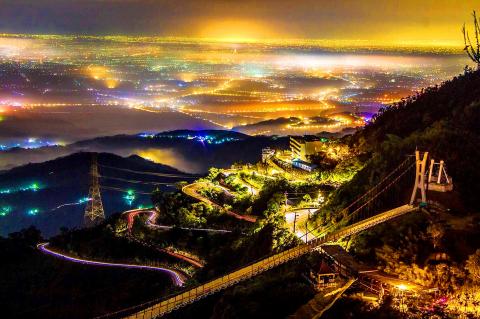 City lights shine behind the Taiping Suspension Bridge in Chiayi County in an undated photograph.
Photo courtesy of Chen Chuan-jui
At a news conference on Wednesday, administration director Ma Hui-ta (馬惠達) gave the chairman of the cooperative, Yen Ching-ya (嚴清雅), a model of the bridge as a symbol of the transfer of management rights.
Chiayi County Deputy Commissioner Lee Ming-yueh (李明岳), Soil and Water Conservation Bureau Deputy Director-General Lin Chang-li (林長立) and Meishan Farmers' Association director Huang Shih-yu (黃世裕) were also at the event.
Established in 2016, the cooperative was already involved with management of the site as well as ticketing, Ma said.
This is the first time a private organization has been given autonomous management of an entire recreation site by the Alishan administration, he said.
Access to the bridge at night is expected to begin in the middle of this month, Yen said.
Comments will be moderated. Keep comments relevant to the article. Remarks containing abusive and obscene language, personal attacks of any kind or promotion will be removed and the user banned. Final decision will be at the discretion of the Taipei Times.