ELECTIONS: Ko meets with advisory group of 400 business leaders
Taipei Mayor Ko Wen-je (柯文哲) yesterday for the first time met with the advisory group for his re-election campaign and touted the city's investment potential.
About 400 people from the business sector, including from the tourism, information technology and environmental services industries, attended the meeting.
Ko's opponents have said that he has a poor record of attracting investment to the capital.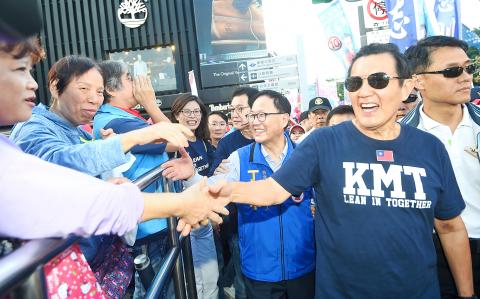 Former president Ma Ying-jeou, second right, and Chinese Nationalist Party (KMT) Taipei mayoral candidate Ting Shou-chung, left behind Ma, shake hands with supporters yesterday during a "walkabout" election campaign event in Taipei's Gongguan District.
Photo: Fang Pin-chao, Taipei Times
Ko said that although he did not sign any build-operate-transfer (BOT) development projects in the first two years of his term, Ma Ying-jeou (馬英九) and Hau Lung-bin (郝龍斌) also did not sign any in their first two years as Taipei mayor.
Investors tend to just watch a new city administration for the first two years, Ko said, adding that Taipei attracted the most projects of any city from his third year and he expects the capital to attract the most investment for at least the next three years.
Total investment in BOT projects and other development projects in Taipei was about NT$29.9 billion (US$964.3 million) in his third year and reached a cumulative total of NT$39.8 billion this year, he said, adding that the Taipei Twin Towers project is expected to attract even more investment next year.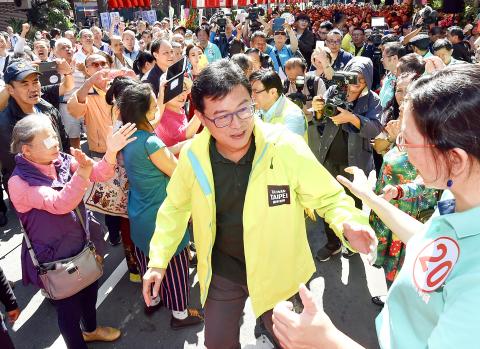 Taipei Mayor Ko Wen-je, center, attends a flower arranging event in Taipei yesterday.
Photo: Chen Pei-yao, Taipei Times
Foreign nationals invest in projects in Taipei because the city government is "very clean" and has clear regulations, Ko said.
Separately yesterday, Chinese Nationalist Party (KMT) Taipei mayoral candidate Ting Shou-chung (丁守中) was joined by former president Ma and KMT Vice Chairman Hau Lung-bin (郝龍斌) in Taipei's Gongguan (公館) area, while Democratic Progressive Party (DDP) Taipei mayoral candidate Pasuya Yao (姚文智) held a parade in Daan Forest Park (大安森林公園) in the afternoon.
Speaking on the sidelines, Yao said that Ko had "adopted a belittling attitude toward social justice, viewing it as trash, to butter up members of the National Women's League and gain their votes."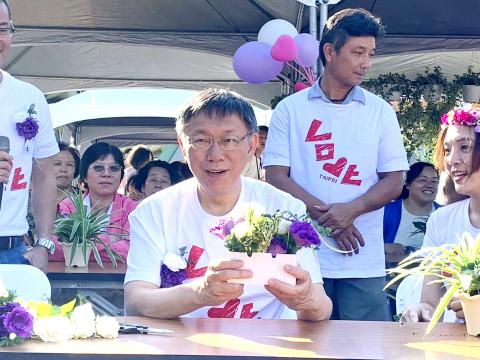 Taipei Mayor Ko Wen-je, center, attends a flower arranging event in Taipei yesterday.
Photo: Chen Pei-yao, Taipei Times
Ko on Saturday spoke at a veterans' village cultural symposium on transitional justice alongside league chairwoman Joanna Lei (雷倩).
He said that transitional justice "should be about solving current problems first, followed by preventing them from happening again, while investigating liability for past incidents should be last," as calling people to account for historical crimes first would create a litany of problems.
He also defended the league and the China Youth Corps — both of which the Cabinet's Ill-gotten Party Assets Settlement Committee ruled to be KMT affiliates — saying: "They are operating properly now."
The groups illegally profited from so-called "donations" during the former KMT regime, but that "will not happen again, so why do you [the asset committee] care about what it did in the past?" he said.
Committee spokeswoman Shih Chin-fang (施錦芳) yesterday said that Ko's remarks seemed to indicate that murderers could be freed from prison as long as they repent.
Politicians with such core belief "seem very dangerous," Shih said.
Ko said his remarks were to highlight "the order of importance for issues of justice."
A conversation with former Polish president and Nobel Peace Prize laureate Lech Walesa this year taught him the importance of "sequence" when dealing with issues of justice, he said.
Walesa taught him to deal with the problems at hand first, then prevent matters from happening again and investigate liability last, Ko said.
The city government's dealings with the China Youth Corps made that advice relevant, he said.
Confrontation between the pan-blue and pan-green camps seems to be especially intense before elections, so his remarks are often overinterpreted, Ko said.
Additional reporting by Chung Hung-liang and Shen Pei-yao
Comments will be moderated. Keep comments relevant to the article. Remarks containing abusive and obscene language, personal attacks of any kind or promotion will be removed and the user banned. Final decision will be at the discretion of the Taipei Times.