Investment could stop brain drain: Lee
EXCESSIVE SAVING: Policy frameworks and infrastructure investment must keep up with innovation efforts, which are gaining speed, former president Lee Teng-hui said
Insufficient domestic investment has led to considerable talent outflows, former president Lee Teng-hui (李登輝) said on Saturday, adding that greater financial innovation and additional fiscal reforms are needed amid the escalating US-China trade dispute.
Lee made the remarks in a speech transcript delivered by Taiwan Research Institute founder Liu Tai-ying (劉泰英) at the opening of a two-day economic forum in Taipei.
Lee had planned to attend the forum, but canceled on doctors' advice given the cool weather.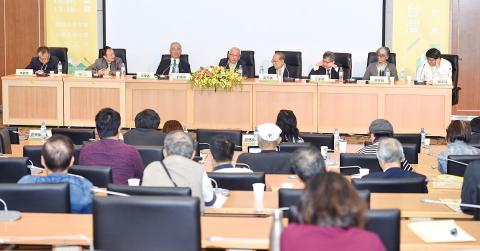 From third left, Taiwan Investment Management Corp chairman Wu Rong-i, Taiwan Research Institute founder Liu Tai-ying and former Presidential Office adviser Huang Tien-lin attend an economic forum in Taipei yesterday.
Photo: George Tsorng, Taipei Times
The forum, titled "Investment, innovation and a vigorous Taiwan," was organized by the Taiwan Association of University Professors and the Lee Teng-hui Foundation.
Taiwan has fostered many talented people, but has not treated them well, prompting many to seek better opportunities in other countries, Lee said.
Foreign investment in Taiwan is declining, but the ratio of fixed investment to GDP also dropped to 20.9 percent in 2016, the lowest among the four "Asian Tigers" — Taiwan, Hong Kong, Singapore and South Korea, Lee said.
With the worsening trade war between the US and China — Taiwan's major trading partners — the nation needs more reforms to boost its own economy, he said.
Investment in infrastructure and forward-looking infrastructure are insufficient, and the legal and policy frameworks have failed to keep up with local innovation efforts, which are gaining momentum, Lee said, calling for fiscal reform and reforms in the financial sector.
Economic growth reached 2 percent thanks to the booming export trade, but Taiwan might become another Philippines if domestic investment remains sluggish, Liu said, adding that the government should promote public investment.
The ratio of domestic savings to investment has surged from 0.32 percent during Lee's presidency to 15.56 percent last year, meaning that the nation has more savings than investment spending, Liu said.
Excess savings might exceed NT$3 trillion (US$96.76 billion) this year, which is a waste of financial resources, Liu said, adding that another financial storm might be looming if the problem of excess savings is not properly addressed.
Having also attended the forum, Wu Rong-i (吳榮義), chairman of the state-run Taiwan Investment Management Corp, said that many entities have savings that should be put to better use, citing the NT$6.7 trillion in assets of state-run Chunghwa Post and the more than NT$50 billion in aggregate assets of irrigation associations.
Comments will be moderated. Keep comments relevant to the article. Remarks containing abusive and obscene language, personal attacks of any kind or promotion will be removed and the user banned. Final decision will be at the discretion of the Taipei Times.