ELECTIONS: TSU seeks laws to fight fake news
'TRAITORS AMONG US': Spokesperson Yeh Chih-yuan said that the government should consider legislation to combat 'united front' tactics and infiltration by China
The Taiwan Solidarity Union (TSU) yesterday called on the government to amend the National Security Act (國家安全法) and look into drafting legislation to counter false information on the Internet.
The party also called on people to refrain from spreading false information from dummy accounts aiming to affect the political sphere.
Former TSU legislator Chou Ni-an (周倪安) told a news conference that the government's laissez-faire attitude regarding false information on the Internet has allowed the proliferation of pro-China commentary.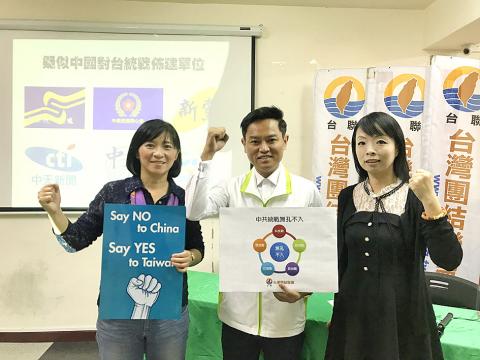 From left, former Taiwan Solidarity Union (TSU) legislator Chou Ni-an, TSU spokesman Yeh Chih-yuan and TSU Social Activity director Ou Yang Jui-lien gesture at a news conference in Taipei yesterday.
Photo: Su Fang-ho, Taipei Times
Accusations and reports by pro-Chinese commentators a month away from the Nov. 24 nine-in-one elections are worrying, Chou said.
The situation, if left unchecked, could topple Taiwanese society, Chou said.
On Oct. 18, Scott Busby, deputy assistant secretary of the US Department of State's Bureau of Democracy, Human Rights and Labor, told the Global Counter Terrorism Forum Workshop in Taipei: "We also recognize that disinformation is a threat to all democracies."
TSU Director of Social Activity Ou Yang Jui-lien (歐陽瑞蓮) likened the presence of foreign disinformation to an intruder entering a residence.
Ou Yang cited a report by Mirror Media on Wednesday that said IP addresses linked to accounts promoting political parties and candidates originated in the Netherlands, Japan and Venezuela, and used simplified Chinese characters.
TSU spokesperson Yeh Chih-yuan (葉智遠) said China's "red force" was ubiquitous and as the vote draws closer, its rhetoric would become more fiery.
Yeh called on the government to amend the act as soon as possible and to consider anti-"united front" and anti-infiltration legislation.
"We must punish traitors among us and counter disinformation from China to ensure the safety of Taiwanese democracy," Yeh said.
Comments will be moderated. Keep comments relevant to the article. Remarks containing abusive and obscene language, personal attacks of any kind or promotion will be removed and the user banned. Final decision will be at the discretion of the Taipei Times.