NTU re-election ordered, Kuan Chung-ming on list
Minister of Education Yeh Jiunn-rong (葉俊榮) yesterday called on National Taiwan University (NTU) to elect a president from five candidates — including Kuan Chung-ming (管中閔), who was denied the post after the previous vote — and said it has formally responded to administrative appeals filed over the controversy.
"It is important that NTU, as Taiwan's leading institution of higher education, has the ability to handle its presidential election properly. I hope the university's presidential election committee can do what is necessary to correct the procedural flaws in the previous election and fully respond to outside concerns" about the controversy, Yeh said in response to media queries on the sidelines of a meeting of the legislature's Education and Culture Committee.
The university on Jan. 5 elected Kuan, but the ministry on May 4 refused to approve his election, saying there was a potential conflict of interests, as Kuan was an independent director of Taiwan Mobile and the company's vice president, Richard Tsai (蔡明興), was on the election committee.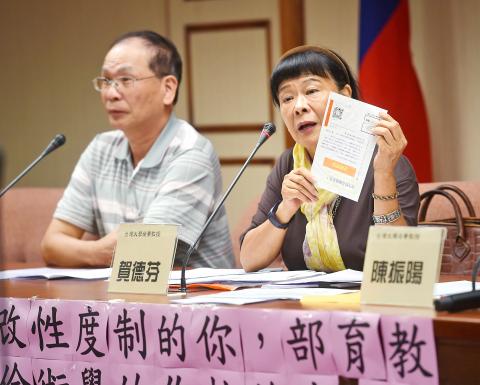 National Taiwan University professor Ho Te-fang, right, speaks at a news conference in Taipei yesterday as Northern Taiwan Society deputy chairman Li Chuan-hsin looks on.
Photo: Fang Pin-chao, Taipei Times
The university, a group of NTU students and Kuan have each filed administrative appeals asking the ministry to honor the election results and appoint him.
The ministry on Sept. 12 asked NTU to choose a president from the five finalists — including Kuan — on the condition that Tsai is barred from voting.
While the ministry had called for a vote as early as May, it was unclear from what stage the university was to redo the election and the latest instructions were more concrete, Yeh said.
The ministry has not changed is stance on the issue, Yeh said.
"The ministry respects the judicial system, but still needs to do what it can to improve the nation's higher education," he said.
When asked about the legal basis for the ministry to request a re-election, Yeh said: "There is sufficient legal basis in the Constitution, the University Act (大學法) and the Administrative Procedure Act (行政程序法) to allow the ministry to act."
Comments will be moderated. Keep comments relevant to the article. Remarks containing abusive and obscene language, personal attacks of any kind or promotion will be removed and the user banned. Final decision will be at the discretion of the Taipei Times.