Women's groups seek to boost female wardens
NOVEMBER ELECTIONS: Alliance of Taiwan Women's Associations chairperson Chen Hsiu-hui said women bring the values of social welfare to the community
Women's groups yesterday said they hope that more women would be elected as borough and village wardens at the nine-in-one local elections on Nov. 24.
Women hold about 14 percent of the nation's 7,000 borough and village warden positions, the National Alliance of Taiwan Women's Associations told a news conference in New Taipei City's Banciao District (板橋).
This is despite the nation having already elected its first female president, while about 38 percent of legislators and one-quarter of city and county councilors are women, alliance chairperson Chen Hsiu-hui (陳秀惠) said.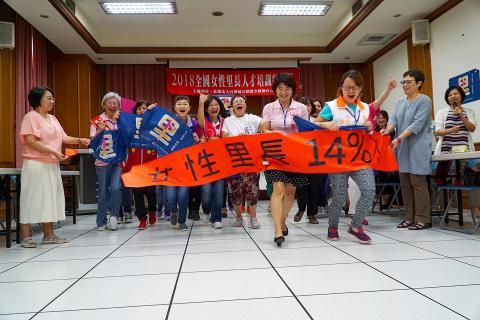 Borough warden candidates run through a red banner that reads "female borough wardens 14 percent" at a news conference held by the National Alliance of Taiwan Women's Associations in Banciao District, New Taipei City, yesterday.
Photo: CNA
Although the majority of community service and volunteer work is performed by women, they are often hesitant to vie for leadership roles, Chen said.
The alliance encourages women in local communities to run for borough or village warden, and groups are there to offer support, she said.
The alliance said it held training sessions in July and last month throughout the nation for potential female warden candidates to increase the proportion of female leaders and in local communities and to support them.
This month, it hosted training sessions for female candidates, it said.
The alliance said it hopes that the proportion of female wardens would surpass 14 percent after the elections on Nov. 24, while it aims to reach 20 percent.
Chen said she hopes that once female wardens are elected, they would transcend party lines and act as professional community workers and managers.
They would bring the values of social welfare and civil groups into their communities and create environments that are more friendly and livable, Chen said.
At the news conference, female candidates across the nation broke through a banner that said: "Female borough wardens, 14 percent."
Several women's groups, including the Homemakers United Foundation, the Peng Wan-ru Foundation, the Taipei Women's Rescue Foundation, the Awakening Foundation, the Society of Taiwan Women in Science and Technology, the Taipei Awakening Association and the Kaohsiung Women Awakening Association, also attended the event.
Comments will be moderated. Keep comments relevant to the article. Remarks containing abusive and obscene language, personal attacks of any kind or promotion will be removed and the user banned. Final decision will be at the discretion of the Taipei Times.