KMT caucus urges mass resignation
Chinese Nationalist Party (KMT) lawmakers yesterday called on members of the Transitional Justice Commission to resign en masse and for the commission's operations to be suspended.
Chang Tien-chin (張天欽) resigned on Wednesday as commission deputy chairman after the Chinese-language Mirror Media magazine published a partial transcript of a commission meeting on Aug. 24, in which he was heard proposing an investigation of New Taipei City mayoral candidate Hou You-yi (侯友宜) to influence public opinion and compared the commission to Dong Chang (東廠), a Ming Dynasty secret police and spy agency.
The commission should be suspended and the Control Yuan and prosecutors should initiate investigations, KMT Legislator Johnny Chiang (江啟臣) told a news conference in Taipei.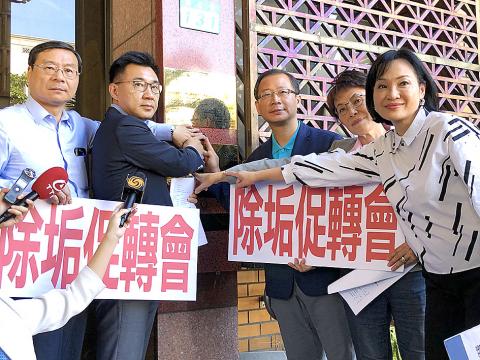 Chinese Nationalist Party (KMT) Legislator Johnny Chiang, second left, and other KMT lawmakers yesterday press the bell at the Taipei District Prosecutors' Office.
Photo: Chien Li-chung, Taipei Times
Political interference has permeated the government at all levels, and people like Chang are causing distress to ordinary civil servants, Chiang said, adding that the Taichung City Government is making civil servants work on political campaigns.
"Chang might be a black sheep, but the entire commission was rotten to begin with," he said.
Chang's case is not an isolated incident and proceedings should begin to hold officials mentioned in the transcript accountable, including Central Election Commission members and lawmakers, KMT caucus secretary-general William Tseng (曾銘宗) said.
Someone in the Presidential Office, the Cabinet or the Democratic Progressive Party (DPP) must be giving orders to Chang, he said, adding that they should be identified and held accountable.
The KMT caucus will demand the creation of a multi-agency task force to investigate the incident when the Legislative Yuan starts its next session and will ask the Taipei Prosecutors' Office to file criminal charges, he said.
President Tsai Ing-wen (蔡英文) and Premier William Lai (賴清德) should take political responsibility for appointing Chang, Tseng said.
The commission is mainly composed of people in Tsai's circle when she served as Mainland Affairs Council chairperson, and Chang was empowered to make the inappropriate comments due to his connection to Tsai, KMT Legislator Ko Chih-en (柯志恩) said.
"This kind of transitional justice is not credible. The Transitional Justice Commission itself needs some transitioning," she said.
Asked to comment, Executive Yuan spokeswoman Kolas Yotaka said: "Chang's remarks are unacceptable, harmful to the Transitional Justice Commission and damaging to the government's reputation."
The Cabinet has urged the commission to review its conduct and take the incident as a salutary example of what not to do, she said.
The Cabinet has not yet received Chang's resignation and a replacement is to be chosen after it has consulted Transitional Justice Commission Chairman Huang Huang-hsiung (黃煌雄), she said.
While the Executive Yuan strongly condemns Chang's remarks, changing all commission members would necessitate new nomination and confirmation hearings in the legislature, she said.
"I believe that starting again from scratch and reshuffling the commission would be complicated and difficult," she said.
The commission is an independent agency and the Executive Yuan respects its autonomy, she said, adding that the Cabinet is confident that lawmakers would do their job in providing checks and balances.
Additional reporting by Lee Hsin-fang
Comments will be moderated. Keep comments relevant to the article. Remarks containing abusive and obscene language, personal attacks of any kind or promotion will be removed and the user banned. Final decision will be at the discretion of the Taipei Times.