Man with sickle seeking Tsai audience arrested
A man who said he wanted to tell President Tsai Ing-wen (蔡英文) that he loved her was arrested yesterday while allegedly trying to break into a military police camp while brandishing a sickle near the Presidential Office in Taipei, the Military Police Command said in a news release.
At about 11am, the man, surnamed Lin (林), 53, approached guards outside the 211th Military Police Battalion, which is one street away from the Presidential Office Building, it said.
Wielding a sickle, the suspect tried to attack the guards, but was subdued and taken to a nearby police precinct for questioning, it said, adding that no one was injured in the incident.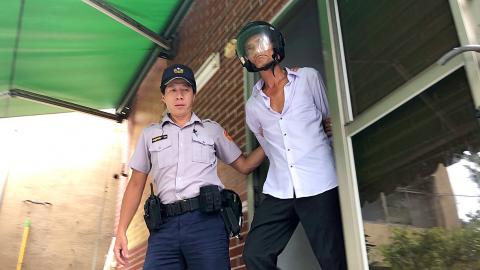 A man surnamed Lin, right, who allegedly attempted to break into the 211th Military Police Battalion near the Presidential Office in Taipei brandishing a sickle, is escorted by a police officer in Taipei yesterday.
Photo: Wang Kuan-jen, Taipei Times
The Presidential Office said there was no threat to its security during the incident.
The 211th Military Police Battalion is responsible for maintaining security around the Presidential Office and the nearby Presidential Residence.
Asked by reporters about his intentions, Lin said he wanted to tell Tsai he loved her.
He was referred to the Taipei District Prosecutors' Office on charges of obstructing an officer on duty and attempted bodily harm.
According to a preliminary investigation, Lin left his hometown of Tainan several years ago for Taipei and New Taipei City, where he worked at construction sites and an environmental protection company, police said.
Lin has a prior criminal record for offenses including obstructing an officer on duty and endangering public safety, police said.
Lin on Wednesday was received by the Presidential Office as he made an appeal to the government over damage caused by flooding in central and southern Taiwan late last month, a source with knowledge of the matter said, speaking on condition of anonymity.
Comments will be moderated. Keep comments relevant to the article. Remarks containing abusive and obscene language, personal attacks of any kind or promotion will be removed and the user banned. Final decision will be at the discretion of the Taipei Times.