Taiwan part of Pacific solution: ex-NATO commander
Taiwan is part of the solution to challenges posed by China and North Korea in the Indo-Pacific region with its close relations with the US and Japan, a former NATO commander said yesterday.
The expansion of China's military force and North Korea's nuclear program pose a threat to regional security, retired US Navy admiral James Stavridis, who was the alliance's supreme commander from 2009 to 2013, told the one-day Indo-Pacific Security Dialogue in Taipei.
With China's naval capacity continuing to expand and its warships traveling around the world, Stavridis said that Beijing is becoming a significant player in the Indo-Pacific region.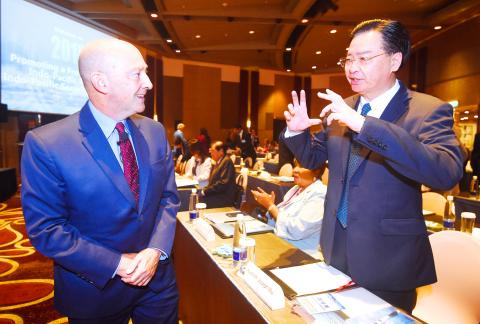 Retired US Navy admiral James Stavridis, left, yesterday speaks to Minister of Foreign Affairs Joseph Wu, right, at the 2018 Indo-Pacific Security Dialogue in Taipei.
Photo: Liao Chen-huei, Taipei Times
China's construction of artificial islands in the South China Sea is even more worrying, he said.
Stavridis said Taiwan is a strong friend and partner to the US, as well as nations in the Indo-Pacific region.
As the world's 22nd-largest economy, despite only having 23 million people, with capable and professional armed forces, Stavridis said that the nation is part of the solution to the challenges in the region.
Possible solutions to the challenges are in "collective action together" with like-minded countries, particularly South Korea and Japan, he said.
Facing these challenges, Stavridis said that regional nations and the US should remain in constant dialogue with each other and with China, striving for solutions through diplomatic means, as well as collective defense.
"If we work at this together, we can create peace ahead," he said.
The event was organized by the Ministry of Foreign Affairs, the Taipei-based Prospect Foundation, the US-based Center for New American Security and the Japan-based Sasakawa Peace Foundation.
Former US deputy national security adviser Nadia Schadlow also spoke at the seminar, sharing her insights into Taiwan's possible role in the US-initiated Indo-Pacific strategy, the ministry said.
Comments will be moderated. Keep comments relevant to the article. Remarks containing abusive and obscene language, personal attacks of any kind or promotion will be removed and the user banned. Final decision will be at the discretion of the Taipei Times.