Illustrations for Mayday MV on display in Tainan
Artist Jing D Wang's illustrations for Taiwanese rock band Mayday's (五月天) music video People Life, Ocean Wild (人生海海) are being featured in an exhibition at Tainan's Awesome! (好森) gallery.
Mayday lead vocalist Ashin (阿信) invited Wang to create characters for the music video based on the band's five members after seeing the portraits he did as a designer for fashion brand Stayreal.
Since March last year, Wang's creations have been shown in nearly 100 concerts as Mayday has toured around the globe.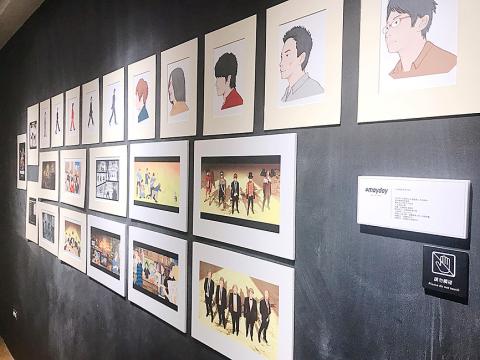 An exhibition entitled "WEAR R U GOING" by artist Jing D Wang, including illustrations of characters commissioned by Taiwanese rock band Mayday for a music video, are on display on Sunday at Awesome! gallery in Tainan.
Photo courtesy of Awesome! gallery
The exhibition also displays 66 other portraits by Wang, as well as the stories behind them.
Wang's exhibition, titled "WEAR R U GOING," is a reflection on the ways in which people represent their identity through fashion and how clothing links people to their desired destination in life.
Wang had his first solo exhibition when "WEAR R U GOING" was held in Taipei late last year. The exhibition in Tainan opened on Saturday.
Before being transformed into a gallery, Awesome! was a fabric factory, said Tainan City Councilor Lu Wei-yin (呂維胤), who visited the exhibition on Sunday.
The gallery's unique environment, Wang's rare talent and Mayday's music have made the exhibition a must for locals, with many Mayday fans from Hong Kong and Macau also visiting, Lu said.
The exhibition is open from 11am to 9:30pm until the end of this month.
Admission is free, but visitors need to make a reservation online or by telephone.
More information can be found at www.facebook.com/ events/237066396935238.
Comments will be moderated. Keep comments relevant to the article. Remarks containing abusive and obscene language, personal attacks of any kind or promotion will be removed and the user banned. Final decision will be at the discretion of the Taipei Times.